Genuine Faith
Study in the Book of James
This article goes along with our study in the book of James. If you are new here and would like to join in this study you can learn more at the end of this post.
Week:1~Genunie Faith Knows, Considers, and Does Not Doubt
Our study in the book of James is under way! We began our study looking at who wrote the book of James and to whom he was writing. We learn that James, the half-brother of Jesus, was quick to tell the Jewish believers, to whom he was writing, he was a bond-servant of God and the Lord Jesus Christ. Do not run away thinking, "I am not a Jew so these truths do not apply." At the time of its writing, James, audience were primarily Jews. However, God preserved the truths of this letter for every generation of believers who would follow. Dear Sister, this letter is addressed to you!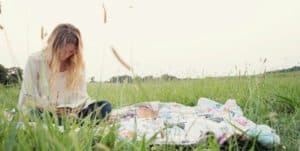 Can You Confidently Say You're a Bond-Servant of Jesus Christ?
What is a bond-servant? Can you and I say with confidence and full conviction, like James, we're  bond-servants of God and the Lord Jesus Christ? Strong's definition of a bond-servant is an individual bound to another in servitude and conveys the idea of the slave's close, binding ties with his master, belonging to him, obligated to and desiring to do his will and in a permanent relation of servitude.
The book of James lists verse after verse, paragraph after paragraph, the attitudes and characteristics that accompany the bond-servant of Christ. Most of us are quick to say, "I am a Christian" but are we as quick to say, "I am a bond-servant?" The book of James will challenge us and call us to action. Are you ready?
Counting the Cost of Being a Disciple of Christ
There's a cost which comes with being a disciple of Jesus Christ. I saw this quote by Charles Spurgeon that sums this truth up very well.
"God had one Son without sin, but he never had a son without trial."
A disciple is one who follows hard after Christ learning from Him. We fix our eyes on Jesus, the author and perfecter of our faith. Hebrews 12:2. A believer is a disciple. He counts the cost of following Christ and considers the trials that come his way worthy of the calling. Have you counted the cost of following hard after Christ?
You Cannot Be My Disciple If:
In Luke 14:24-33 we read, there were large crowds following Christ. He turned to them and says this"
If anyone comes to Me, and does not hate his own father and mother and wife and children and brothers and sisters, yes, and even his own life, he cannot be My disciple. Luke 14: 26.

Whoever does not carry his own cross and come after Me cannot be My disciple. Luke 14:27.

 For which one of you, when he wants to build a tower, does not first sit down and calculate the cost to see if he has enough to complete it?  Otherwise, when he has laid a foundation and is not able to finish, all who observe it begin to ridicule him,

saying, 'This man began to build and was not able to finish.'

 Or what king, when he sets out to meet another king in battle, will not first sit down and consider whether he is strong enough with ten thousand men to encounter the one coming against him with twenty thousand?

Or else, while the other is still far away, he sends a delegation and asks for terms of peace. Luke 14:28-32.

So then, none of you can be My disciple who does not give up all his own possessions.

 Luke 14:33.
Have you counted the cost of claiming to be a bond-servant of Jesus Christ? There is more to being a believer than making a claim. It is costly. Pay close attention to the words of Christ!
Consider it All Joy!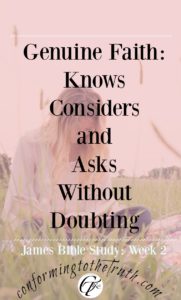 The counting begins! The world lies and tells us that this life is rainbows and roses. It strives for perfection and avoidance of trials. Many in the church have bought into this lie. The book of James squashes this false teaching that runs rampant in churches today! The life of a believer is met with many trials. Trials that cannot be avoided. Hard as we try. True Joy comes in knowing the trials we face are doing something. James tells us so!
Genuine Faith Knows:
Genuine faith knows the trials and temptations it encounters is testing our faith. Testing proves the quality of that which is under fire. It produces a better product through the process of refining.
What is the testing of our faith producing? The testing of our faith according to James 1:3, is producing endurance, patience. James emphasizes letting endurance have its perfect work! Look at Strong's definition of endurance: "The root idea of hupomone/endurance is that of:
remaining under some discipline,
subjecting one's self to something which demands the acquiescence of the will to something against which one naturally would rebel.
It portrays a picture of steadfastly and unflinchingly bearing up under a heavy load and describes that quality of character which does not allow one to surrender to circumstances or succumb under trial. It presents the picture of being under a heavy load and resolutely staying there instead of trying to escape."
Faith knows God is Sovereign over every trial we encounter! Knowing and understanding this should keep us from running away from what God planned for our sanctification!
Genuine Faith Asks Without Doubting:
As we near the end of this discussion, I want to turn our minds to God who gives you and I the wisdom we need to walk through and stand tall under these trials. If we are looking at our trial and not to God through Christ, we will crumble under them every time. Is this happening to you? I know in times past I would crumble under the weight of my trials. Not knowing and not understanding why?
Look with joy at what the text of James tells us to do!
"But if any of you lacks wisdom, let him ask of God who gives to all generously and without reproach, and it wull be given to him. But he must ask in faith without any doubting…
God Gives Wisdom Generously and Without Reproach:
Notice, God is the generous God! If we ask for wisdom without any doubting, He gives generously and without reproach. Do you know what that means. God does not scold us, mock you and I, nor shame us, when we ask Him for the wisdom we need to get through, and bear up under the trials He ordains for each of us! Now joy in that!
Knowing God is in control of our trials, sends them, and uses them, for His glory and our sanctification, should eliminate all of our doubting! I hope and pray it does because He's removed every obstacle for doubting out of our path and calls us, commands us to come to Him as a child!
I would love to hear from you!
What did you learn about endurance this week?
Why does James tell us to considre it Joy when we are in a trial?
What do you learn about God from James 1:1-8?

Learn more about our James Study or our current study here: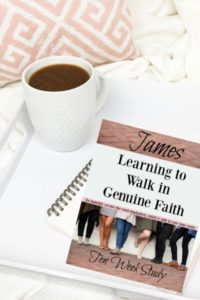 SaveSave
SaveSaveSaveSave
SaveSave
SaveSave
SaveSave
SaveSave
SaveSave