I am thankful you came back today! If you enjoyed this post please sign up for my email so you do not miss a post, new resources, or online Studies!
I am seriously laughing while I write this post! Why, you may ask? I am wringing my hands and wracking my brain trying to write this last post in Malachi. I have typed and deleted a million times. Well not that many but do you get my point? Waiting…Nothing… there are so many lessons and applications in this book where does one start?  Where does one end? Then it hit me! I do not want to be a heretic here. God's spoken word is closed. However, the Spirit of God does stir ones heart to learn and apply the truths we find in the Scriptures. So here is the application we will explore today from the book of Malachi. What to do While Waiting IN God's Perfect timing.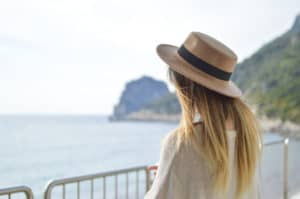 400 Years of Silence Broken
God was silent for 400 years after speaking through His prophet Malachi. However,  His silence was broken when the angel of the Lord appeared to Zacharias with the news he and his wife Elizabeth would give birth to a son. Luke 1:5-17. There are periods of time that God is silent. It seems as if He's left us. But He promises to never leave us nor forsake us. Hebrews 13:5. Not in this exact words but Malachi speaks of another interval of silence before the Sun of righteousness appears. However, While we wait  for this glorious day God is paying attention to His own.
While We Wait: God Hears and Pays Attention
|Then those who feared the LORD spoke to one another, and the LORD gave attention and heard it, and the book of remembrance was written before Him for those who fear the LORD and who esteem His name.| Malachi 3:16.
If we are not careful, sisters,  we can find ourselves in fear, worry, and laid-back in our worship of God while waiting on the Lords return. The book of Malachi speaks words of wrath and condemnation to those who act arrogantly toward God. To those who truly have no fear of Him before their eyes. There are times, for those who truly fear and esteem God, that we can question the love and protection of God. The true believer lives in the knowledge of their sin everyday. We know and recognize we do not love Him nor esteem Him as we should. These knowledge may lead us to  fear we will be swept away by His coming wrath. But wait! God has a word for you and I:
They Will Be Mine
|They will be Mine, says the LORD of hosts, on the day that I prepare My own possession, and I will spare them as a man spares his own son who serves him.| Malachi 3:17
He knows those whose are His! Those who are His, He is sanctifying and conforming into the image of His Son. Those whom He prepares are, "a chosen race, a royal priesthood, a holy nation, a people for God's own possession."  1 Peter 2:9.
I must pause for a moment. Because I would never lead anyone into a false assurance of salvation. Is there evidence of God's sanctifying work in your life? Malachi does give us a look into the lives of those who are truly saved. They fear and esteem God. Those who fear and esteem Him will sometimes question their salvation. However, instead of justifying their sin or questioning God's word they run to Him in prayer. They seek instruction and guidance thought the study of the Bible. We must examine our lives in the mirror of God's word!
BUT: For Those Who Fear His Name
|But for you who fear My name, the sun of righteousness will rise with healing in its wings; and you will go forth and skip about like calves from the stall.| Malachi 4:2.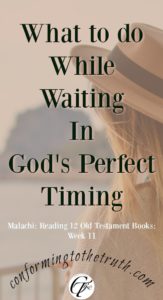 The truths in this passage are future, ultimate healing will one day come through todays suffering. You and I are in a place of waiting and silence. Though God does choose to heal some physically and spiritually today, full redemptive healing will not happen until the sun of righteousness arises. There is silence in not knowing the day nor the time of Christ return. However, while we wait in silence there are clear directives for those who fear God's name.
What to do While We Wait IN God's Perfect Timing
|Remember the law of Moses My servant, even the statutes and ordinances which I commanded him in Horeb for all Israel.| Malachi 4:4.
Remember we are waiting in God's perfect timing. He has a plan, a perfect plan. While we wait IN His perfect timing wait in His word. Get into the word of God. Learn His statues and His commands. Strive through the power of the Holy Spirit to live in godliness." He who called you is calling and equipping you to be holy as He is holy. 1 Peter 1:16.
I would love to hear how God has strengthened you IN His waiting! Let's chat!

Can I still Join in The Study?
As of the writing of this post we are in the next to last week reading and working through 12 Old Testament Books. However, if you would like to jump in, I say go for it. Below you will find the link to my free workbook.
You will be doing this study at home on your own, following the study guide for the week. Grab a friend or a group of friends and do this together! A Community is great for accountability and prayer.
Please subscribe to my newsletter for updates, information about current studies, and new studies being added! You can subscribe either at the top or bottom of this page or in the sidebar of this page!
Join: Let's Study Truth Together: Facebook Group
I  have a Facebook group set up in addition to my posts here on Monday's and Friday's. On this page, I will post reminders for upcoming resources and new studies that are coming up. Also on Monday, Wednesday, and Friday, I will post graphics and insights for our week of study. If you desire community this is the place for you!
This is also a place for discussion, asking questions, and prayer needs. We have a community of like-minded women who encourage each other every step of the way through these studies! You do not want to miss being apart of this group. You can ask to join the group here: Let's Study Truth Together.
WORKBOOK FOR THIS SERIES
Click Here: Reading 12 Old Testament Books in 12 Weeks for Download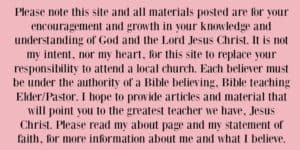 SaveSave
SaveSave