I am thankful you came back today! If you enjoyed this post please sign up for my email so you do not miss a post, new resources, or online Studies!
God set before Israel Blessings and Curses. Deuteronomy 27-30 records all the words the prophet Moses spoke to the people of Israel. God would bless Israel if they obeyed His word. However, if they turned away from obeying His word He would send curses upon the nation. Because Israel disobeyed the word of the Lord, in 586 B.C they were taken into 70 years of captivity. Just as God prophesied through the prophet Jeremiah. In 583 B.C. Cyrus, the King of Persia issued a decree allowing the children of Israel to return to Jerusalem to rebuild the temple of the Lord. Zerubbabel finished the temple (Ezra 6:16) and Nehemiah returned to Jerusalem and rebuilt the walls. (Nehemiah 6:15)  The people of Israel were rejoicing to be back in their homeland. But it did not take long before they became laid-back in their worship of God.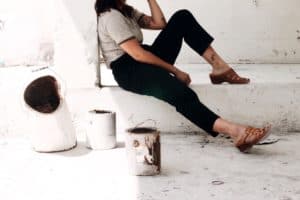 Questioning God's Love:
Had Israel become weary of waiting for the prophecies promised of the coming Messiah? Were they entertaining thoughts that God did not love them? Had they become comfortable in their freedom from captivity? Whatever the case it caused them to become laid-back and indifferent to the commands of God. He reaffirms His love for Israel reminding them of His choosing them over the nation of Edom. Malachi 1:1-5. But, the hearts of the priests and the people are so calloused they question God's love and deny their guilt before Him!
Questioning God and Denying Guilt:
It is a dangerous thing for you and I to deny our sin and argue with God! The 8 questions that either come out of the mouth of God's people or are raised in their minds makes me tremble. Each of us  must stop and think about these:
How have You Loved us? Malachi 1:2
How have we despised Your Name? Malachi 1:7
How have we defiled You? Malachi 1:7
For What Reason? Malachi 2:14
How have we wearied You? Malachi 2:17
How shall we return to You? Malachi 3:7
How have we robbed You? Malachi 3:8
What have we spoken against You? Malachi 3:13
O, The Arrogance of the Heart!
"Your words have become arrogance against Me, says the LORD." Malachi 3:13.
Notice God says, their words are against Him. God knows the heart. An arrogant heart cannot hide. Whether is shows itself in works, words or thoughts. The arrogant heart is against God and it will not worship Him in the manner He deserves or commands!
The arrogant heart is against God and will not worship Him in a way that is pleasing to Him.
Click To Tweet
Have You Become Laid-Back in Your Worship?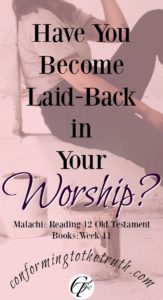 We can throw stones at Israel by saying things such as, "How could they question the love of God? Look at how He has taken care of them! I would never argue with the God the way they did! That would be arrogant of me! Really, he who is without guilt throw the first stone. Not one of us is innocent. We have all questioned God, denied God, sinned against God! My question to all of us is this,
 HAVE WE BECOME LAID-BACK IN OUR WORSHIP OF GOD?
The book of Malachi lays out in pretty good detail the acceptable worship of God. It sure teaches us what is not acceptable to Him. Let's do a heart check today ladies. I know after reading through the book of Malachi my heart is due a check up!
Stay in the word and stay on your knees!

Can I still Join in The Study?
As of the writing of this post, we are in the next to last week of reading and working through 12 Old Testament Books. However, if you would like to download the free workbook used through this series follow this link below to my shop.
You will be doing this study at home on your own, following the study guide for the week. Grab a friend or a group of friends and do this together! A Community is great for accountability and prayer.
Join: Let's Study Truth Together: Facebook Group
I  have a Facebook group set up in addition to my posts here on Monday's and Friday's. On this page, I will post reminders for upcoming resources and new studies that are coming up. Also on Monday, Wednesday, and Friday, I will post graphics and insights for our week of study. If you desire community this is the place for you!
This is also a place for discussion, asking questions, and prayer needs. We have a community of like-minded women who encourage each other every step of the way through these studies! You do not want to miss being apart of this group. You can ask to join the group here: Let's Study Truth Together.
Reading 12 Old Testament Books
Click Here: Reading 12 Old Testament Books in 12 Weeks for Download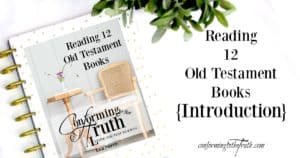 SaveSave
SaveSave