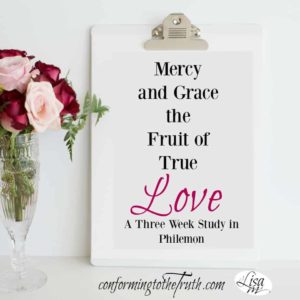 It is Love That Leads the Way to Forgiveness
Philemon: A Picture of God's Mercy and Grace
Can you see the picture the book of Philemon paints of  God's  love, grace, mercy, and forgiveness? If you are a child of God you can most definitely see the picture the book of Philemon paints. Because you know the love, grace, mercy, and forgiveness of God. For without God's  works of righteousness we would still be dead in our trespasses and sins. You and I were utterly dependent on who He is and what He graciously gives.
Onesimus stands in need of Philemon's love, grace, mercy, and forgiveness. But without Philemon first knowing and experiencing God's Love and graces he would not be able to extend these God-given graces to Onesimus or anyone else for that matter.
First Comes Love: Then Comes…
"We love because He first loved us."1 John 4:19. "But God demonstrates His own love for us, in while we were yet sinners Christ died for us." Romans 5:8. "For while we were still helpless, at the right time Christ died for the ungodly." Romans 5:6.
God calls You and I like Philemon to extend love to others. Especially those of the household of God. I pray that we are so thankful for the love, grace, and mercy of God our hearts are running to extend His love to our brothers and sisters in Christ!
Love Extends Mercy and Grace
I find myself sometimes saying, "do I have to forgive them?" After all, they stomped on my heart, turned and walked away.  I do not always find my heart running to hand the baton of grace and mercy. I know that exposes the darkness of my own heart. I am so very thankful that the word of God shines the Light on the darkness of my heart!
God often reminds me of His love, grace, and mercy extended to me, His enemy. What other motive do you and I need but that to give love, mercy, and grace to others?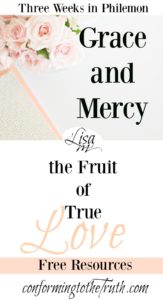 Mercy and Grace Are…
Mercy defined: the kindness or good will towards the miserable and the afflicted, joined with a desire to help them. God desired to help you and me, the miserable and afflicted. His love extended His mercy.
Grace defined: of the merciful kindness by which God, exerting his holy influence upon souls, turns them to Christ, keeps, strengthens, increases them in Christian faith, knowledge, affection, and kindles them to the exercise of the Christian virtues. By His grace, we are saved, being saved, and will be saved.
Who is Your Onesimus? 
Philemon's faith is called to take action. Onesimus needs love, grace, and mercy. Who is your Onesimus? Is there someone in your life that is in need of love, grace, and mercy? Pray and ask God to change your heart toward this person and give you the grace to love as He loves you!