If you are like most book readers you are always on the lookout for a good book to read. Each of us has a genre that we most like to read! Sometimes we find a book that we enjoy to read over and over again because it is that good! I love the book "Stepping Heavenward" by E Prentiss. The book is a journal of one woman's journey to godliness. I try to read this little book at least one time a year. I highly recommend it to everyone that will listen and have been known to give it as Christmas gifts! Yes, to me it is that good! I am leaving a link so you can go and buy this book. No, I am not making any money if you decide to buy it. I just really recommend it that much! Click STEPPING HEAVENWARD for the book.
Although I love the book "Stepping Heavenward" there is another book that I love even more. I cannot really put it in a specific category because it is One of a Kind! By now you may know to which book I am referring! Yes, it is the Bible! Written by 40 men who were inspired by God to write His word without error. The Bible is the most important book you and I need to read this year and years to come. Unlike the other books we read the Bible must be read over and over and over until the day He takes us to our home with Him!
The Most Important Book to Read This Year!
Click To Tweet
Why Do I Need To Read the Bible This Year?
The Westminster Shorter Catechism asks and answers this question, "What is the chief end of Man?"  The chief end of man is to glorify God and enjoy Him forever. The first and main reason to read the Bible this year is to Know God, Love God, Glorify God, and Enjoy God. Loving God, enjoying God, and knowing God is the believer's act of worship. We learn to worship God in this way by reading and studying His word. He teaches us who He is in His Word, the Bible. There is not another book written that can sufficiently teach the truths of who He is and the way in which the believer is to live out his days in this earth except the inerrant, sufficient word of God!
Not only do we read and study the Bible to learn to fear God but we read and study to learn the Gospel of Jesus Christ! After the Holy Spirit opens our hearts and minds to understand our need of Jesus Christ, He sanctified and teaches us a new way to live. The apostle Paul urges us in Ephesians 4:22-24:
 "to put off your old self,which belongs to your former manner of life and is corrupt through deceitful desires,  and to be renewed in the spirit of your minds, and to put on the new self, created after the likeness of God in true righteousness and holiness." 
We learn this new way of life through the study of God's word.  Ok, so now you have a couple of reasons to read the Bible this year, however, this is not a complete list. Please read my post "10 Reasons a Believer Needs to Read and Study the Bible" for more in-depth reasons.
What Version of the Bible Should I Read? 
I have answered the question why we need to read the Bible this year but you may be asking what version of the Bible should I read? Believe it or not all Bibles are not created equal. There are several good versions that you can choose from. I am only going to mention a couple of versions for the purpose of this article. I hope to do further study on different translation in the future. At that time I will go into more detail. I will recommend the versions that I use for my personal reading and study.
I use the King James Version, primarily for deep study and writing my Bible Studies, with the NASB translation. I have chosen the NASB translation for its accuracy to the original Greek and Hebrew text. Please read this article for further explanation: BibleGateway. I would also recommend the ESV translation for the same reasons.
At this time there is one translation that I would not recommend, "The message." I know a lot of Christian would disagree with me but that is ok. I have read it and it is a very loose translation. The Message is a paraphrase of the Bible. I would not recommend it to a new believer nor a mature believer because, in my opinion, it leaves out too much critical doctrine. Our purpose for reading and study is to know the whole counsel of God. This translation does not meet the criteria.
How Do I Read Through the Bible This Year? 
You can do a google search and find hundreds of suggestions for reading through the Bible. Most ideas that I ran across will read a few verses from the Old Testament along with a few verses from the New Testament. I do not read through the Bible this way. Please, I am not trying to be legalistic or try to force you to read it a specific way but I do have a reason. I think it is very important to read a book through systematically, chapter by chapter, verse by verse. This keeps you in the context of what is written in the particular book you are reading. I suggest reading through the Old Testament and then the New Testament.
There are 1189 chapters in the entire Bible. If you divide 1189 chapters by 365 days you would need to read three chapters a day to read through the entire Bible in a year. Three chapters are not that much if you really think about it. I know life happens and some days you miss completely or you cannot read that many. Give yourself some grace and do the best you can! Not too much grace though it does need to be a discipline!
One More Thing Before We Go!
I not only recommend reading the Bible this year but also studying the Bible as well. Both disciplines are very important to our Christian walk. By reading the Bible through each year we are getting the word of God into our hearts and minds but studying the word gets us deeper into the truths. By studying we see things that could be missed by just reading.
God placed a desire in my heart years ago to write Bible studies that take us through a book of the Bible chapter by chapter, verse by verse. These studies are free to anyone who desires to know God and Conform their lives to truths of His Word. Please click on the image it will take you to my homepage where you will find my current workbooks and also the current online study that we are doing right now! I cannot wait to see how God works in your life through the study of His word. I also cannot wait to study truth with you! God Bless, I will see you in whatever study you choose! Click here for your study: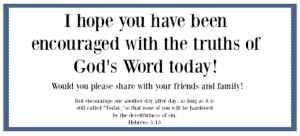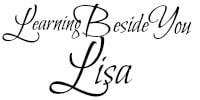 You may be looking for a Bible Study. Click the box below to see my next online study. You can also check out my current Bible Study Workbooks!