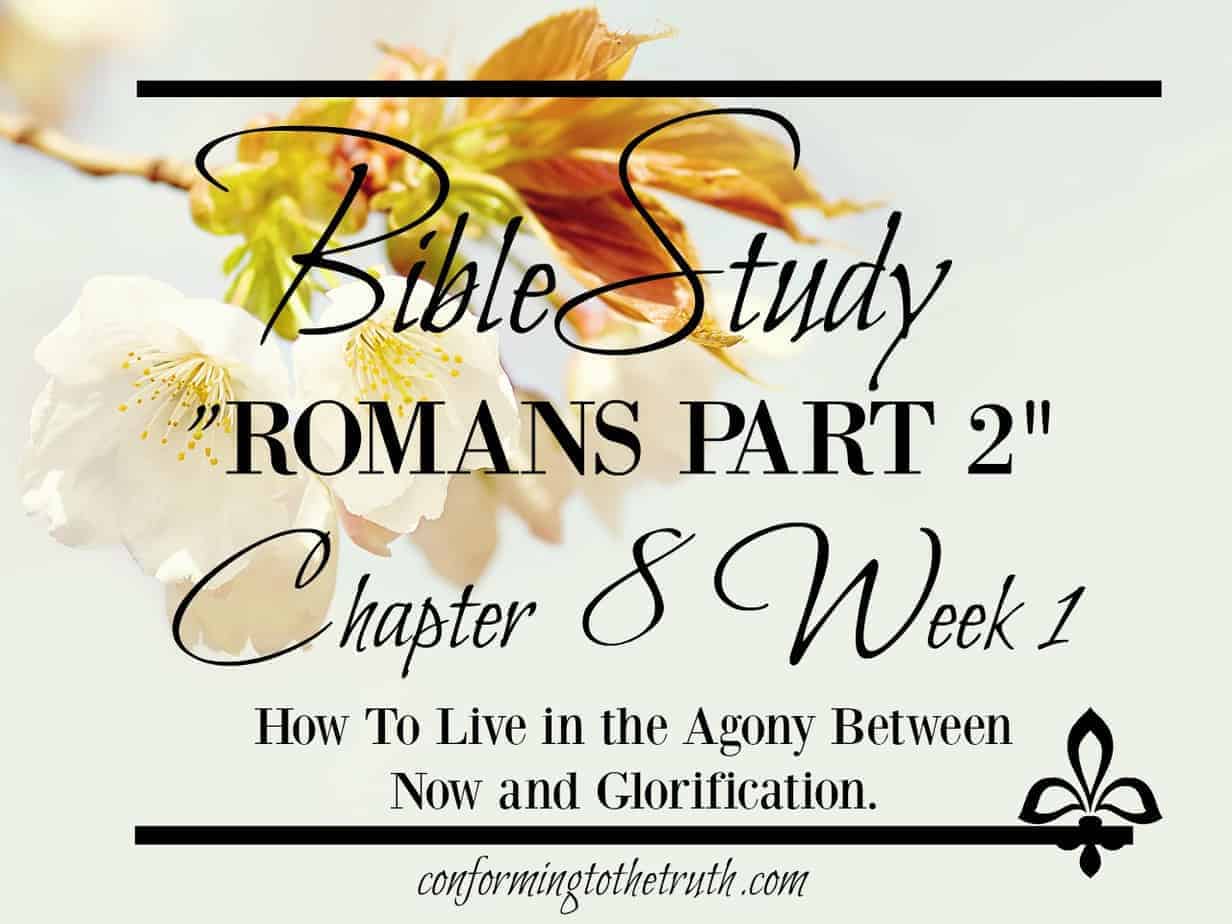 I know as a believer we live out Romans 7:14-25 every day!  "For the good that I want, I do not do, but I practice the very evil that I do not want." Romans 7:19. Are you like me? Are there times that sin seems under control all is good in the world and then "BAM" it rises like a roaring lion and seemingly devours you? Well, this week I lived this passage out loud! If not for the grace of Christ roaring louder than that lion it would devour me! So, how do we live in the agony between today and glorification? Praise God Paul gives us the answer to that question in Romans 8:1-4.
Wretched Man That I Am!
In Romans 7:14-23 Paul explains that while the believer is still living in this flesh, the body, we are going to do the things we hate.   Hate is an important word in this passage because it describes the heart of a believer. One sign of a true believer is a growing hatred of the sin which still indwells them and the understanding that , "I CANNOT DO THIS!"  In my experience the longer I live, the more I am exposed to the light of God's word the more I recognize and hate my own sin. I cry out with the Apostle Paul,  "Wretched man that I am! Who will set me free from the body of death?"
Wretched describes a man exhausted by trying to live a life pleasing to God in his own power! The word means, suffering, very unhappy, in the depths of despair! Paul understands  the Law is good he is not. In our human effort, there is no way to live up to the standards of the Law. Through the teaching of the Holy Spirit, Paul now understands that sin still dwells in human flesh. This understanding brings him to his knees in exhaustion and Praise
Who Will Set Me Free?
Do you ever get to the end of yourself and cry out, "Uncle!" That my dear friend is the beginning, middle, and end of our salvation. I think I have gotten to the end of myself and realize, no you have not! The Christian walk is a continual bringing to the end of ourselves.
God Saved us~ Regeneration
He is saving us~Sanctification
Will save us~Glorification
Each of these stages brings us to the end of self!
In the dead or unregenerate state, we served the law of sin in our mind and flesh. We could not serve the Law of God because we were not yet set free. In the regenerated state we serve the law of God in our mind, but because we are not yet glorified we serve the law of sin in the flesh.
Who will set me free?
"Thanks be to God through Jesus Christ our Lord!" Romans 7:25

What God through Christ Has Accomplished!
Paul is thanking God for the work and person of Jesus Christ. I pray as we study through these passages of Romans that we grow more thankful for the work and person of Jesus Christ!
I am going to pull apart and separate Romans 8:1-11 into two categories!
Category 1:                                                                                                                 Category 2:
I cannot, would not, could not!                                                                               He can, He did, He could!
Category 1: ME!
Romans 8:5-8 describes in detail who we were and who we served before God saved us.
For those who are of the flesh set their minds on the things of the flesh.
Those who are of the flesh are dead, unregenerate, unsaved.
Their focus is on self and what it desires.
The mind set on the flesh is hostile or opposed to God.
Those who are in the flesh cannot please God.
They do not subject themselves to the Law of God.
The mind is not able to subject itself to God.
How did we get in this state? We were sold into bondage to sin. Romans 5 teaches us the fall of man, all men. "Through one man sin entered into the world, and death through sin, and so death spread to all men because all sinned_ Romans 5:12
Because of sin our sin we are in a state of sin and misery.
Category 2: But God!
Paul begins Romans 8 with the word, therefore! If you are in the habit of asking questions of the text like I am, you are right now asking why is the, therefore, "therefore?" 🙂 I hope that makes sense?
We are being pointed back to the previous verses and chapters. Go, read Romans 6:1-18 to be reminded of the work of Christ on our behalf.  Because of the work of Jesus Christ the believer has died with Christ! What we could not do God did through Christ!
Romans 8:1-11 teaches us what Christ has done for us!
The law of the Spirit of life in Christ has set you free from the law if sin and death.
The believer is no longer under the wrath and condemnation of God.
Christ was sent in the likeness of sinful flesh as an offering for sin.
He condemned sin in the flesh.
Through His Atoning work on the cross, the requirements of the Law are fulfilled in us.
The Spirit of Christ lives in the believer.
The body is dead because of sin BUT the spirit is alive because of His righteousness.
The same power that raised Christ from the dead dwells in the believer. He/God who raised Christ from the dead will also give life to your mortal bodies through His Spirit.
Do you know what that means? Right now, today, we are here on this earth in a continual battle with the flesh and the sin that still indwells us. BUT!! One day, as promised by God, He will raise us up with Him. On that day we will be glorified and no longer live in agony! We will be with Him forever and ever! Unable, because of His power to sin again! What a day that will be. That which we long for, to bring glory and honor to God our Father will be realized!
How Do We Live out These Days of Agony?
We can live in victory today by reading the words that have been pinned for us in the word of God. Know without a doubt that we will not be in this body of death forever. God promised and He is faithful!
Do you believe He is faithful?
Do you live in the reality of His truths?
I pray you do! Please pray for me as I pray for you! Until that day, keep looking at the things above not the things of this world!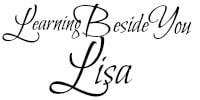 Can I still participate?
Yes!! Most certainly you can still take part in this Romans study. I would never turn anyone away! BUT,  if you wait too late you will not get the benefit of our community discussion. We will be studying together for 13 weeks asking questions and sharing what God is  teaching us each week. I will leave the Facebook discussion open for a few weeks after we have finished. But after that, we will move on to a new study. If it is impossible for you to participate  with the group I am always available to answer your questions. I love to hear what God is doing in your life!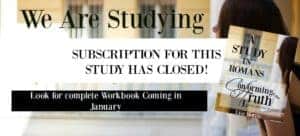 You can sometimes find me linked up with these great Bloggers! Link Parties