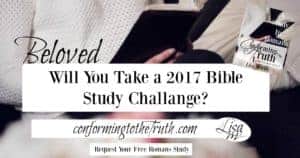 I published this article in January of 2016! I am updating it today, February 2017. The on-line study I hosted in this study has come to an end! But, I have good news!!! The Romans Bible study guide is completed! All ready for you to download!  But before we get to the download I would like to "challenge" you to a challenge!
Not Another New Year Resolution?
It is easy to get caught up in making New Year resolutions, after all, everyone else is making them. Who wants to be left out? NOT ME!
But if you are anything like me you make resolutions for the upcoming year only to get maybe half way through and stop! Can I get a witness!  I honestly have stopped making them. Who wants to set themselves up for failure anyway? I try to be disciplined, I really do, but I fail more often than not.
Maybe I fail because of the resolutions themselves. I have to ask myself do the resolutions I make have eternal value or are they just face value. You know the ones that have an outside appearance of making me look good but on the inside, I am only full of dead men's bones?
So for 2016 2017 and beyond I have decided that I am going to make a different kind of resolution. A lifestyle change that will have eternal value. This resolution will change me and you from the inside out. Then the other things that need to change will over time begin to change.
 I want to challenge you to do this as well. 
I know that if you do you will be changed from the inside out.
The Challenge!
In-Depth Bible study. 

Here Are All of the Details!
In-Depth Bible Study! Ok! Do not run away! I am not going to make this legalistic. I know that there is not a set amount of time a person needs to be in the Word of God. You can spend 5 minutes a day, or 10 hours a day in the word and there is a great value that will come from it. This challenge will have you in the word around ??? minutes a day.  You get to set the pace! There are 36 lessons containing anywhere from 30-40 questions each. After you download the workbook sit down and decided how many questions a day you can answer.
By the way, give yourself some grace, Life happens. You may not be able to answer the 10 questions you had set aside for that day! Just pick back up tomorrow!
Reading blog posts is great.
Listening to your pastor is wonderful.
Reading Christian books is also great
But:
The word on your own is invaluable! So, Today Get Started with My "Finished" Romans Bible Study.