Description
This is a Three Lesson Workbook.
Each lesson is written to take you through each verse of every chapter. Sometimes you will be taken to other parts of Scripture to help with the interpretation of the text. Remember, Scripture interprets Scripture!
We will also be doing word studies. You may be asking, "Why do I need to know what a word means?" Word studies get us deeper into the word of God. Sometimes we think we know what a word means, and we really do not. It has been my experience that after I have studied a word, I have a greater understanding of what is being taught. I have also learned more and more of the Amazing Grace of God! It is well worth the time and effort to look words up.
Each lesson is designed to be worked through in a week. You decide how you want to walk through the questions. I do recommend spacing the questions out. We do not want to rush through the word. We need to ponder and pray for teaching from the Holy Spirit.
You can work on these lessons in your own study time, or you could gather a group of like minded women and study together.
This workbook is 8.5X5.5 and is 87 pages long. At this time Titus is only available in PDF Download.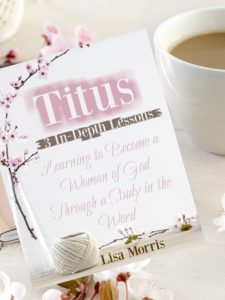 SaveSave
SaveSave