Description
Reading 12 Old Testament Books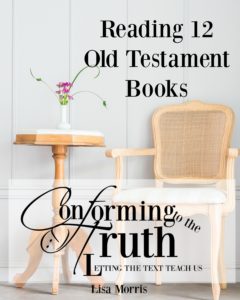 Before I go through the worksheets included in the workbook I would like to clear up what may look like a contradiction.  I know I said this is a reading plan and it is. However, I have included some optional work for those who would like to have it. If all you desire to do is read, that is great. I am trying to get as much in your hands as possible!
Each book in the series will come with four worksheets.
The first sheet is a schedule for reading the book each day. It includes the chapters to read and what day to read them.
The second sheet contains a focus verse from the book to memorize or just ponder as you read each week. The second sheet also includes space for you to record any attributes of God found in the book. There is also space for you to record any prophecies recorded of the coming Messiah.
Sheet three provides space for you to record any keywords, main characters, and any geographical locations found in each book.
Finally, sheet four is for you to write any lessons that apply to your life found in the book.
SaveSave