Posts and Graphics for this study will be added until April 14th.
Welcome friends! I have set up this page so you can see all of the graphics used in my Jude study. You will also find posts with my insights on this small, power packed book. I would love for you to share the graphics and the posts with your friends and family. Sisters, we must wake up and spread the word. False teachers have crept into our congregations unawares. Do you know what that means? The church has become complacent and undiscerning. We are more afraid of offending man than offending God!
Church, we are more afraid of offending man than offending God!
Click To Tweet
In Jude 1:1, Jude introduces himself as a bond-servant of Jesus Christ. His will was consumed by the will of another. Jude's heart beat with the heart of God. No matter the consequences. I am praying for an attitude like Jude! How about you?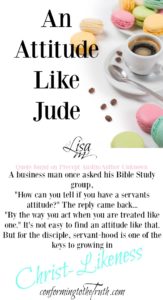 Sisters, we are called, Beloved in God, kept, looked after, by God the Father, for Christ Jesus! In whatever hard circumstance, we find ourselves in today or tomorrow pales in comparison to the fact that we are dearly loved and held by our Heavenly Father!
Rest in that today dear ones!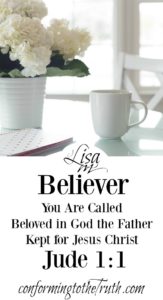 Beloved, in order to stand firm and rest in the peace of God we must build ourselves up in our most holy faith! Only in prayer and study of God's word can we build ourselves up!