Genuine Faith
Study in the Book of James
This article goes along with our study in the book of James. If you are new here and would like to join in this study you can learn more at the end of this post.
Week:1~Genunie Faith Knows, Considers, and Does Not Doubt
Week 2~Genuine Faith Accepts Responsibility for His Sin and Repents
Week 3~ Genuine Faith Never Uproots the Word of God
Week 4: genuine Faith Understands God's Grace Makes Us All Equal
Week 5: Genuine Faith is a Loving Working Faith
The Bible describes the tongue as a very small part of the body. Yet, that small part of the body can set a course which directs our entire lives for good and for bad. I can remember these words echoing through the playground of my elementary school, "Sticks and stones may break my bones but words can never hurt me," followed by a crescendo of wagging the tongue. You and I know that saying to be false. Words hurt, cut deep, and have a long-lasting effect on the one in which they pierced. The book of James tells us that no one can tame the tongue!
So where in the world does that leave us? I hope and pray what we learn from the book of James concerning the tongue drives us to the God who not only convicts, and corrects, but also enables and directs.
 Photo Credit: Freepik
These Things Should Not Be This Way!
James gives you and me a vivid description of the ugliness of the tongue. When we read this passage, we can see how important it is to tame our tongue. Let's look at them in list form so we can better see the picture James paints.
A very small part of the body yet boasts of great things: James 3:5
The tongue is a fire, the very world of iniquity: James 3:6
It is set among our members as that which defiles the entire body: James 3:6
The tongue sets on fire the course of our lives: James 3:6
Is set on fire by hell: James 3:6
Both Blesses and curses: James 3:9-10
James' powerful convicting words to us is, "My sisters and brothers these things ought not be this way." James 3:10
The Tongue Directs the Body. What Directs the Tongue?
The director of our tongue is the heart. Our evil motives and our unwholesome thoughts are in our hearts and if not tamed will come tumbling out. Jesus has quite a bit to say about the man and the fruit of his heart. Look at what He says in Matthew 12:34-35:
"You brood of vipers, how can you, being evil, speak what is good? For the mouth speaks out of that which fills the heart. The good man brings out of his good treasure what is good; and the evil man brings out of his evil treasure what is evil."
Look closely at how Jesus describes each treasure. One treasure is good and one treasure is evil. Both cannot exist together. James puts it this way, a fountain does not send out both fresh and bitter water from the same opening. James 3:11.
After that in James 3:12 he says, "a fig tree does not produce olives nor does a vine produce figs." This is an illustration of what Jesus teaches in Matthew 7:16, "You will know them by their fruits. Grapes are not gathered from thorn bushes nor figs from thistles, are they?
Time For a Heart Check
Our hearts will lie to us. It will cover up evil motives and unwholesome thoughts. Jeremiah 17:9 teaches, "our heart is more deceitful than all else and is desperately sick; who can understand it?" The warnings given in James and Matthew are that of double-mindedness which leads to double-tongueness. Can I say that? I think I made up a word, but that's ok. I think we understand what I am getting at!
So What is a girl to Do?
James says no one can tame the tongue. So what is a girl to do? Here are 5 teachings from Scripture you can use to renew your mind, guard your heart, and make your tongue obedient to Christ.
Receive the Word implanted which is able to save your souls. 
James says to receive the word implanted which is able to save your souls right after he tells us not to be quick to become angry with the word of God. We are to be slow to speak and quick to hear. Hear what the word of God is saying! Are you double-minded and quick to use the tongue not only against the word of God but against your neighbor? Repent and ask God to show you the deceitfulness of your heart!
Ask For Wisdom
If any of you lacks wisdom, let him ask of God. James 1:5. By reading the text of James you are gaining knowledge about the heart and the tongue. Do not be afraid to ask God for the wisdom and understanding you need to see areas of improvement. James 1:5 tells us God gives generously to all who ask and without mocking you or chiding you. He calls you to ask and He will be gracious!
Renew Your Mind
Renew your mind through the study of God's word. Romans 12:1-3. With a renewed mind, and a changed heart come words that build up instead of tear down, words that edify instead of pull apart. Remember what goes in is what comes out!
Guard Your Heart
Watch over your heart with all diligence, take care and always be conscientious of your thoughts. For from your heart flows the springs of life. Proverbs 4:23 Remember to take every thought captive and make it obedient to Christ. 2 Corinthians 10: 5.
This is such a convicting passage in James. We have all been there. I can remember times I used my words for tearing down and not building up, participated in gossip…hurts my heart to know God was dishonored and my sisters in Christ were not built up and caused to stumble because I did not watch diligently over my heart. Let's leave convicted. But let's also leave encouraged that serve a God who rebukes and corrects but also forgives those who genuinely repent and turn from their sin. Love you, my sisters!

Learn more about our James Study or our current study here: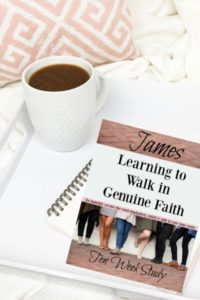 SaveSave
SaveSave
SaveSave
SaveSave