Genuine Faith
Study in the Book of James
This article goes along with our study in the book of James. If you are new here and would like to join in this study you can learn more at the end of this post.
Week:1~Genunie Faith Knows, Considers, and Does Not Doubt
Week 2~Genuine Faith Accepts Responsibility for His Sin and Repents
Week 3~ Genuine Faith Never Uproots the Word of God
"But the Lord said to Samuel, " Do not look at his appearance or at the height of his stature, because I have rejected him; for God sees not as man sees, for man looks at the outward appearance, but the LORD looks at the heart." 1 Samuel 16:7
A believer lives with their feet on earth and their eyes toward heaven. At least our eyes should be toward heaven. But more often than not we forget where our real citizenship lies and we begin to act and think like the world. James is addressing this-worldly attitude of showing partiality in James 2:1-13. Genuine faith understands God's grace makes us all equal.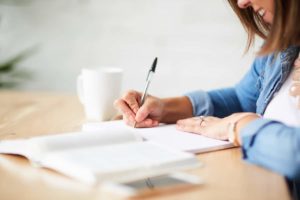 Showing Partiality is a Sin
 But if you show partiality, you are committing sin and are convicted by the law as transgressors. James 2:9.
She walks into the room wearing the best designer clothes. Her hair and nails done to perfection. She's adorned with gold rings and fine jewelry. Right behind her walks in a woman wearing dirty clothes, no jewelry, with unkempt hair. Everyone rushes to escort the one wearing the fine clothes to the seat of honor while the one wearing the dirty cloths is told to stand out-of-the-way or to sit down on the floor. Judgments made. Partiality shown. No one knows these two women. However,  based on outward appearances honor is given to one while the other is dishonored.
The Scriptures call those who show partiality judges with evil motives. When you and I look at the example James gives we can call it nothing but evil. God does not judge based on appearances. Remember the saying, "You cannot judge a book by its cover?" You cannot judge the heart on outward appearances. Only God knows the heart. To show honor to one over another is a sinful practice.
Fulfilling the Royal Law
"If, however, you are fulfilling the royal law according to the Scripture, "You shall love your neighbor as yourself you are doing well." James 2:8.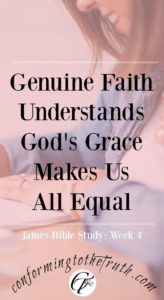 Genuine faith expresses itself with love to neighbor regardless of social or economic standing. God choose the poor of this world to be rich in faith. He chooses and saves man based on His love, grace, and mercy. He does not choose based on anything you and I did or will do. Paul tells us that God makes foolish the wisdom of this world. 1 Corinthians 1:20. Showing partiality based on outward appearances is worldly wisdom. James calls the wisdom of the world, earthly, natural, demonic. James 3:15. This wisdom is not from God.
Genuine Faith Understand God's Grace makes Us all Equal. 
"There is neither Jew nor Greek, there is neither slave nor free man, there is neither male nor female; for you are all one in Christ Jesus." Galatians 3:28
We are all one in Christ Jesus. I am praising God that He does not show partiality! How about you? Where would we be? The same grace that saved and rescued the richest man is the same grace that reaches down and rescues the poorest man. God's children are equal in statues because of Christ Jesus. The next time you and I are tempted to look at people through the eyes of the flesh may we be reminded that God's grace makes us all equal. We have the same Father and are apart of one universal family, the church. Each part needing one another.
May God gives us understanding in this area! May we be a faithful people!

Learn more about our James Study or our current study here: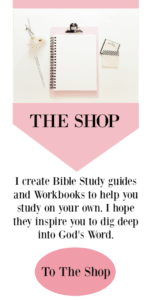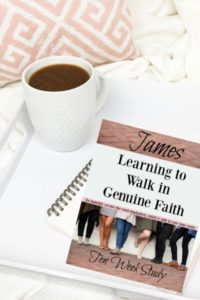 SaveSave
SaveSave
SaveSave
SaveSave