Genuine Faith
Study in the Book of James
This article goes along with our study in the book of James. If you are new here and would like to join in this study you can learn more at the end of this post.
Week:1~Genunie Faith Knows, Considers, and Does Not Doubt
Week 2~Genuine Faith Accepts Responsibility for His Sin and Repents
Have you heard someone say these words, "The devil made me do it." I know I have. I am also guilty of blaming Satan and others for my sin. Satan temps, God tests, we sin. In James 1:13, James confronts some who might go so far as to blame God for their temptation to sin. Who in their right mind would blame God? Genuine faith accepts responsibility for his sins and repents.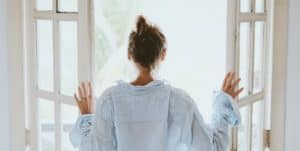 The Blame Game
It is human nature to want to blame others for our own sin. Temptation solicits us to blame others, which is wrong. Sometimes we blame God. James warns against this kind of thinking. When temptation of any kind arise we should go to God and ask for wisdom. But more often than not we give into our own lustful desires, become impatient, complain, and blame.The blame game started in the garden of Eden with our father Adam. He blamed God and Eve for his sin. "The woman You gave to be with me, she gave me from the tree, and I ate." Read Genesis 3:8-13. Instead of owning up to his sin he blamed. The account of Adam and Eve is our first recorded example of James 1:15.
"Then when lust has conceived, it gives birth to sin; and when sin is accomplished, it brings forth death."
Adam and Eve were:
Tempted
Carried away and enticed by their lust
Their lust gave birth to sin
Sin brought forth death
God Does Not Tempt Anyone
"Let no one say when he is being tempted, I am being tempted by God"; for God cannot be tempted by evil and He himself does not tempt anyone." James 1:13
God tempts no one. He sends trials to test, refine, and prove our faith for good. Temptation however is the opposite. Temptation is seduction to evil and solicitation to wrong leading to sin.
Satan tempts every one. But even he is not to blame for our sin.
We Are Tempted and Carried Away by Our Own Lusts
We bear the responsibility before God for our own sinful nature. Our own lusts tempt, entice, and carry us away. James 1:14. "We lust and do not have so we commit murder. We are envious and cannot obtain so we fight and quarrel." James 4:2.
Lust is a very strong desire for something. It could be sex, money, fame and fortune…
Lust is not a fruit of the Spirit, it is a deed of the flesh. Look at what John says about lust in 1 John 2:16: "
"For all that is in the world, the lust of the flesh and the lust of the eyes and the boastful pride of life, is not from the Father, but is from the world."
Every Good and Perfect Gift is From God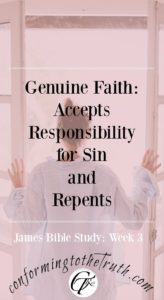 Do not be deceived my sisters. Every good thing given and every perfect gift is from above. James 1:16-17. These good and perfect gifts come to you and I from a very good and prefect God. James lines up his teaching with what God says about Himself in other place in Scripture.
Malachi 3:6 says, "For I the Lord do not change; therefore you, O children of Jacob, are not consumed.
We can rest in and rely on God to give good things to His children. Our trials and sufferings are meant for good.
Brought Forth By the Word of Truth
Let these words stop you and cause you to wonder, be amazed, and Praise! In the exercise of God's Sovereign will, by His divine act, He brought us forth, regenerated our dead hearts.
"God saved us and called us with a holy calling, not according to our works, but according to His own purpose and grace which was granted us in Christ Jesus from all eternity." 2 Timothy 1:9

"They will be my people, and I will be their God.; and I will give them one heart and one way, that they may fear me always, for their own good and for the good of their children." Jeremiah 32:38-39

" Moreover I will give you a new heart and put a new spirit within you; and I will remove the heart of stone from your flesh and give you a heart of flesh." Ezekiel 36: 26-27.
God's grace gift of salvation is His good and perfect gift to a depraved, wretched man. We're held in His hands protected and sanctified until the coming of the day of the Lord!
Genuine Faith Accepts Responsibility for His Sin and Repents
Blame for sin cannot be laid at the feet of God, Satan, nor our neighbor. It is ours and ours alone to bear. Genuine faith knows his own sins and like the tax collector will not raise his eyes to heaven. But instead beats his chest and says, "God, be merciful to me a sinner!" Luke 18:13.
It is time to pack up the blame game. No longer to be played. God is gracious and if you call to Him in true repentance He will forgive!
" If we confess our sins, He is faithful and righteous to forgive us our sins and to cleanse us from all unrighteousness. If we say we have not sinned, we make Him a liar and His word is not in us. 1 John 1:9-10.

Learn more about our James Study or our current study here: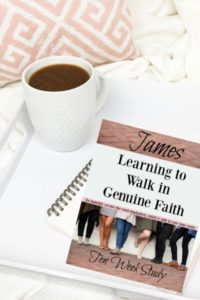 SaveSave
SaveSaveSaveSave
SaveSave
SaveSave
SaveSaveSaveSaveSaveSaveSaveSaveSaveSave
SaveSaveSaveSave
SaveSave