|Grace and peace be multiplied to you in the knowledge of God and of Jesus Christ our Lord; seeing that His divine power has granted to us everything pertaining to life and godliness. through the true knowledge of Him who called us by His own glory and excellence.| 2 Peter 1:2-3
God Reveals Himself in Two ways.
One way God reveals Himself is through nature. Psalm 19:1-6. Also known as general revelation. Nature tells us to think about God. It witnesses to the knowledge, power, and the existence of an infinite God. Romans 1:18-20. However, many try to explain Him away. How? When Science, math, history…reveal the knowledge of God? Beloved, man can try but there is no way He can be explained away!
The second way God reveals Himself is through His word, the Scriptures.  Also known as special revelation. Through nature we understand there is an infinite God and in itself it is enough to hold man accountable to Him. But God, in His wisdom and mercy comes nearer to man and makes Himself better known.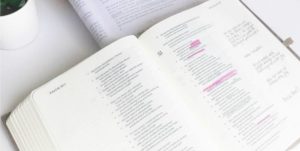 The Sufficiency of the Word of God.
What a God we serve! Why we rebel against Him is beyond me? Ok! I now why but I hate it. What sinful creatures we are!  What a gracious and merciful God He is. He gives us life, He supplies wisdom, understanding, everything we need for life and godliness.  And still we rebel! So He gives His One and Only Son to save us from His wrath to come. He supplies His Holy Spirit to teach and train us. He gives and preserves His word to guide and direct us. For the believer Psalm 19 is a wisdom word. It gives us the understanding we need to hold God's Word up against everything. In this one Psalm we're given 6 reasons to glory in the sufficiency of Scripture.
6 reasons to glory in the sufficiency of scripture.
Click To Tweet
6 Reasons to Glory in the Sufficiency of Scripture
What do I mean by glory in the sufficiency of Scripture? Well, let's walk through this Psalm and I do believe when we are finished you will understand. At least I pray you do. I know my eyes are opened wider than they were before reading and walking through these verses.
Reason 1: The Law of the LORD is Perfect
| The law of the LORD is perfect, restoring the soul;| Psalm 19:7.
The Law, instructions, teachings or directions of God are perfect, complete. Nothing can be added to or taken away. Charles Spurgeon said it this way: Christianity.com
"There are no redundancies and no omissions in the Word of God, and in the plan of grace; why then do men try to paint this lily and gild this refined gold? The gospel is perfect in all its parts, and perfect as a whole: it is a crime to add to it, treason to alter it, and felony to take from it."
God's word restores the soul of man, it returns him back to the place from which sin cast him, out of fellowship with Him!
Reason 2:The Testimony of the LORD is Sure
|The Testimony of the Lord is sure, making wise the simple.| Psalm 19:7
The testimony, refers to the testimony of God. The context of this verse directs us to the absolute truth of His law. God's word is sure, dependable. We can stake our lives present and future on it!
God's word makes wise the simple. Those who are easily turned to the schemes of the devil and the ways of the world. Yet, by the grace and mercy of God they are correctable, teachable. Willing to submit to the truths of God.
Reason 3: The Precepts of the LORD are Right
|The precepts of the LORD are right, rejoicing the heart.| Psalm 19:8
The precepts, are God's directions, orders, or charges. The scriptures guide us on a straight and narrow path. They are not crooked but straight. They are right which is connected to righteousness.
Walking in a straight and narrow path brings joy to the man of God. He rejoices. Free grace brings joy to the heart of a once wayward child!
Reason 4: The commandment of the LORD is Pure
|The commandment of the LORD is pure; enlightening the eyes.| Psalm 19:8
The commandment is an authoritative directive or order and gives instruction to man. It is pure, radiant, unadulterated milk.
James Montgomery Boice explains enlighten this way:
"illumines a right life path enables us to walk in it without stumbling. This is the idea here, though the passage probably also carries the idea of purging darkness out of us and thus enabling us to see clearly and without distortion. Psalm 119:105, embraces these ideas when it says, "Your word is a lamp to my feet and a light for my path."
Reason 5: The Fear of the LORD is Clean
|The fear of the LORD is clean; enduring forever.| Psalm 19:9
Keeping with the context of these verses the word fear is used as a synonym for the word of God. The word of God is clean. It refers to the revealed way in which God is to be feared. Fear of the Lord is closely related to the word of the Lord because through study a reverential fear is birthed in us.
The word of the Lord is clean in itself, flawless, free from all infirmities. It endures forever. No matter what man says or does, rebels or tries to remove from it, God's word stands forever.
Reason 6: The Judgments of the LORD are True
|The judgments of the LORD are true; they are righteous all together.| Psalm 19:9
The judgments, God's judicial decisions, what He judges as just or unjust. I always say, " He is right in everything He says and does." It keeps me in a place of submission and prayerfully out of error!
They are More Desirable Than Gold and Sweeter Than Honey
Gold can buy earthly needs and treasures but only the word of God gives true rest and peace. It is sweeter than honey. The sweetest joys fall on those who rest in the Lord.
Do we need any other reasons to glory in the sufficiency of Scripture? It has done my heart good to work through this passage today. I would like to end this post with prayer. David ended Psalm 19  bowing the knee to the LORD for guidance, direction, and preserver. For without Him we could do nothing. Prone to wander, yes, we are.
|Who can discern his errors? Acquit me of hidden faults. Also keep back Your servant from presumptuous sins; let them not rule over me; then I will  be blameless, And I shall  e acquitted of great transgressions.| Psalm 19:14

|Let the words of my mouth and the meditation of my heart be acceptable in Your sight, O LORD, my rock and my Redeemer.| Psalm 19:14

Can I still Join in The Study?
As of the writing of this post we are in the last week of reading and working through 12 Old Testament Books. However, if you would like to jump in, I say go for it. Below you will find the link to my free workbook.
You will be doing this study at home on your own, following the study guide for the week. Grab a friend or a group of friends and do this together! A Community is great for accountability and prayer.
Please subscribe to my newsletter for updates, information about current studies, and new studies being added! You can subscribe either at the top or bottom of this page or in the sidebar of this page!
Join: Let's Study Truth Together: Facebook Group
I  have a Facebook group set up in addition to my posts here on Monday's and Friday's. On this page, I will post reminders for upcoming resources and new studies that are coming up. Also on Monday, Wednesday, and Friday, I will post graphics and insights for our week of study. If you desire community this is the place for you!
This is also a place for discussion, asking questions, and prayer needs. We have a community of like-minded women who encourage each other every step of the way through these studies! You do not want to miss being apart of this group. You can ask to join the group here: Let's Study Truth Together.
Join the community on Instagram #letsstudytruthtogether by following me on Instagram. Share what you are learning from the  study of God's word by using the #letsstudytruthtogether.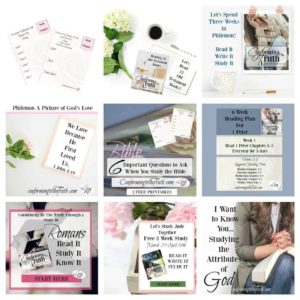 WORKBOOK FOR THIS SERIES
Click Here: Reading 12 Old Testament Books in 12 Weeks for Download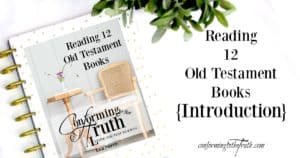 SaveSave