I am a creature of habit. I find something I like and I stick with it. My Bible of choice was the NIV, with commentary, paragraph titles and all. I did not know I was missing out on a great study Bible. Let me tell you about my Bible of choice now and why I like it so much!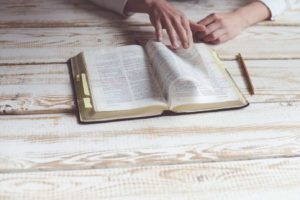 NASB: New American Standard Bible
Bibles are generally translated using two methods, 1) A thought-for-thought translation or 2) a word-for-word Translation. The NIV, which I used earlier in my Bible Study is a thought-for-thought translation. Translating this way makes the text easier to read. The NASB, New American Standard Bible, is especially faithful to the original Hebrew, Greek, and Aramaic texts. It uses a word-for-word translation  instead of the thought-for-thought translation method. The text does not flow as smoothly as a thought-for-thought translation. However, I do like that it is faithful to the original text.
Why The New Inductive Study Bible?
My translation of choice is the NASB and my study Bible of choice is the New Inductive Study Bible put out by Precept Ministries International. (I do not receive any money for recommending this Bible! I am recommending this Bible because I believe it is one of the Best on the Market today!) What does this Bible offer that others do not? This Bible is the only one specifically designed for the Inductive Study Method. If you are not familiar with this study method, read these articles at Precept Ministries. I've used this method of study for years! It's in-depth, slows you down so you observe all the text. If done correctly leads to accurate interpretation of God's Word.
Why I recommend and use the New Inductive Study Bible.
Click To Tweet
What the Inductive Study Bible Offers:
There are several things this Bible offers that makes it unique:
It has wide margins so you can take notes next to the text.
The words are larger than the average Bible and are spaced further apart for ease of marking.
There are no paragraph titles.
There is no commentary.
Why No Paragraph Titles and Commentary?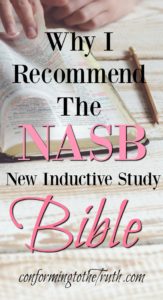 The purpose of this style of Bible is to get you the student to learn the text for yourself.  Commentaries are not a bad thing. I use them myself. But only after I've exhausted the text. I use a reliable resource to make sure I have not interpreted something out of context. We are human and we can misinterpret. So comparing what you believe the text is teaching with someone else is a wise thing to do. Be careful there's a lot of bad commentaries out there.
I do not know about you but if I read someones opinion on something it sticks in my mind. When I go to God's word what I have read guides my thoughts on the text. Without, paragraph themes and commentary I am less likely to base my interpretation on someone else's thoughts. Again, I am not saying do not seek help from teachers, pastors, friends, or commentaries. But first rely on the Holy Spirit to guide you.
Who Can Use The Bible?
I believe the NASB translation and this study Bible can be used by anyone. My daughters have been using it since they were 7 and 8 years old. A lot depends on what you start younger students with. And how involved you are in helping them study. So there you go! This is why I use the NASB Inductive Study Bible!
What is your favorite translation and why?
If you have any questions about the NASB Inductive study Bible please let me know! I will do my best to help answer your questions!

Use the New Inductive Study Bible to work through my Bible Studies!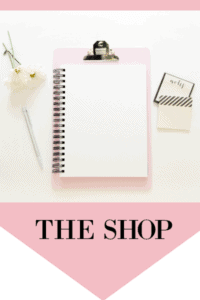 SaveSave
SaveSave