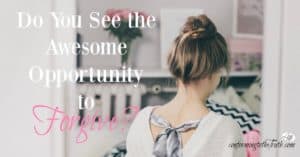 You never know when or what God will use to stretch your faith! His timing and His ways are perfect! I am so very thankful He puts us where we need to be to work in our hearts. This study in Philemon is God's perfect timing in my life! I never knew when I began to study this book and invited you along with me what God had planned.
Talking about the plans of God, I think for me at least, it is best I do not know God's plans in advance. For I would be one to wiggle my way out of them if I could:) I would try to avoid those situations which call for mercy, grace, and forgiveness. Do not get me wrong I am not saying I do not want to forgive or extend mercy. I do not want the sticky, uncomfortable situations that come attached to them. Is it not just like the flesh to want to avoid those things which God uses so mighty to grow us up in Him!
Will you follow along with me as we look further into the forgiveness of God toward us? And then the call to be an example to the church in our privilege and honor to forgive those who trespass against us.
Looking Into the Forgiveness of God
Today, as I looked to learn more about the forgiveness of God I found this passage tucked way back in the Old Testament.
Nehemiah 9: 16-20. "But they, our fathers, acted arrogantly; they became stubborn and would not listen to Your commandments. They refused to listen and did not remember Your wondrous deeds which You had performed among them; so they became stubborn and appointed a leader to return to their slavery in Egypt. But You are a God of forgiveness, gracious and compassionate, slow to anger and abounding in lovingkindness; and You did not forsake them. Even when they made for themselves a calf of molten metal and said, "This is your God who brought you up from Egypt, and committed great blasphemies, You, in Your great compassion, did not forsake them in the wilderness; The pillar of cloud did not leave them by day, to guide them on their way, nor the pillar of fire by night, to light for them the way in which they were to go. You gave Your good Spirit to instruct them, Your manna You did not withhold from their mouth, and you gave them water for their thirst." 
This passage is a great reminder of who we are and Who God is. I understand the context of this passage is directed to Israel. But, let's not forget that Eve ate the forbidden fruit. It reminds me of these words from the song, "Generations" by Sara Groves. "She was the first but she was not the last. My mouth and my hands would be covered with fruit."
We each stood with Eve in front of that tree and ate the forbidden fruit. Without the forgiveness of God, we would still be stained with the curse of that disobedience.
The Fruit of Arrogance
What fruit do we find on the hands of the Israelites in this passage?  I pulled out the passages that speak to the heart of Israel and that apply to us as well.
They acted arrogantly
Became stubborn and would not listen
Made an idol of metal
Appointed a leader to take them back to slavery in Egypt
Committed great blasphemies
We can sum up all of the wickedness above in one word, "Arrogance." There is no fear of God, no regard for God at all. No fear of God leads to idol building and many other blasphemies.
But you Are the God of Forgiveness!
When I think and ponder the amazing grace which God lavished on you on me, His enemy, Romans 5:10, helpless sinners, Romans 5:6, the demonstration of His own love toward us by sending His one and only Son to suffer and die in our place, Romans 5:8, I stand in awe of Him. Why would he even consider forgiving such blatant hostility toward Him? Because of who He is not because of who we are!
You are a God of Forgiveness
Gracious, compassionate, and loving
Did not forsake them in the wilderness
Guided them with a cloud by day and fire by night
You gave Your great Spirit to instruct them
Did not withhold manna from their mouths
Gave them water to drink
An Awesome Opportunity to Forgive Others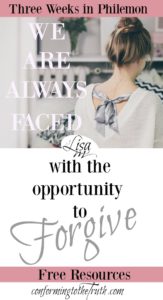 Philemon stands with a choice. To forgive or not to forgive Onesimus. There is no record in the word of God as to the outcome of Pauls plead with Philemon. Set before Philemon was an opportunity to walk in the love, grace, mercy and forgiveness of God. That same leap of faith is set before you and me today. God commands in His word to forgive those who trespass against us. Matthew 6:12. Bear with one another, and forgive each other, whoever has a complaint against anyone; just as the Lord forgave you, so also should you. Colossians 3:13.
As we come to a close in our study of Philemon I hope that we see the privilege in forgiving those who trespass against us. The command to forgive goes deeper than, I will because I have to. We do often start out there. But I hope and pray we move from there. I pray the forgiveness we give to others is based solely on our witness of the forgiveness that God gives to you and me.
The world is watching. We are a witness not only to the world but to our brothers and sisters in Christ. Like Philemon, we stand with a choice. Will we be that witness? Can those around us say what the Apostle Paul said of Philemon?  "I thank my God always, making mention of you in my prayers, because I hear of your love and the faith which you have toward the Lord Jesus and toward al the saints." Philemon 1:4-5.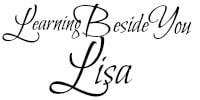 Our study in the book of  Philemon has come to an end! What a great three weeks spent in this wonderful book. Thank you for walking with me through this study! We will be doing a summer reading plan through 12 Old Testament Books. information coming soon!
Be sure and join the private Facebook group set up for all of my Bible Studies! You will be encouraged as we walk together through God's word. Click on  the image below to join: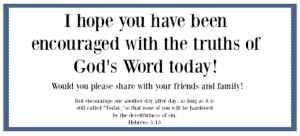 JOIN ME WITH THESE OTHER LOVELY LADIES AT SALT&LIGHT LINKUP: SALT&LIGHT