This post may include affiliate links. Read our disclosure policy here.
Blogging to spread the truth of the gospel. I am so excited to have Carmen Brown from "Married By His Grace" guest posting on my blog today. I met Carmen on-line months ago! The main thing I love about Carmen is her heart for Christ! But I also love the heart she has to encourage and equip women who desire to set up a blog and share their faith and talents with others. It is a big internet world out there and it can be a bit intimidating, to say the least. Carmen has written an eBook that is perfect for you if you are thinking about setting up a Christian Blog. If you are like me and already have a Christian blog set up but need a little more help or encouragement this eBook is perfect for you as well. It has helped me in so many ways especially in the area of organizing my time! I will leave you now and let Carmen take over! PS. CONFORMING TO THE TRUTH READERS, Carmen is offering you a discount for her eBook. Look for details further in the post!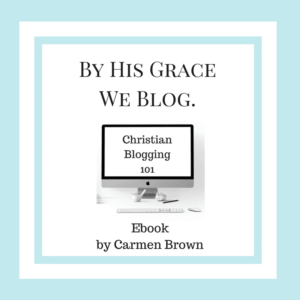 Blogging to Spread the Truth
The Apostle Paul is one of my favorite writers in the bible. If you love reading your bible then you know how much Paul has written and you are familiar with his powerful writings. His passion for the church, for the respect of the church, and for the love of Christ is undeniable.
Paul's writings have touched more people in history than we can ever comprehend. His writings about righteousness, truth, and humility are so strong that his words are the most written in the New Testament of the bible.
His letters are not only about what he has witnessed for himself and full of him pouring his own vision of it into the content but majority of his writings is writing to the churches, to his friends and followers of how to love each other, how to put pride aside, how to respect the leaders and the Church, and how to sacrifice yourself for the love of Christ.
Most of this was done while sitting in a prison cell. He didn't need to tread from city to city to get his words into their hearts. He sat there pouring his own heart out on paper for others to read.
Paul learned how to embed authority into his writings. He learned how to open his letters with respect and to close them with love for his brothers and sisters in Christ. In between those words, his passion for truth spilled out.  
A few months after writing and blogging on Married by His Grace, which is my little place on the internet that I hope to touch others with encouragement from the word of God; I was given a revelation of how much our words matter. I realized how much a blogger that writes with the passion for Christ, for the body of Christ, and with truth as the purpose, can be so effective.
We Need More Christian Bloggers
A light bulb went off in my head, we need more! We need more Christian Bloggers that can reach more readers with the word of God.  There may never be another Apostle Paul and that's ok. Paul is who God anointed to take what we couldn't and to preserve in areas that we in today's society could not imagine. Paul endured through grievous times that no one else could ever explain as eloquently as he did in the prison cell that he sat in for proclaiming Christ as his savior.
My revelation was not that we need more Paul's, it's that we need more examples of a Paul. Someone willing to write for righteousness, for the truth, and with a passion for Christ. Someone that is willing to take a small piece of the internet that touches nation to nation to spread the Gospel.
Months ago I read a statistic that broke my heart and that gave me a desire to begin helping Christian Bloggers with their blogging journey.
I read: 85% of bloggers fail and 50% of those bloggers fail within their first six months.
Then it became more real to me after reading, "Religion, Spirituality" genre is ranked as the fifth most written about niche in blogging.
This made me think about how many of those bloggers were possibly Christian Bloggers and stopped writing their words for the Lord because of a time of discouragement or not being able to find the help they needed. What if someone could have helped or encouraged them to keep going? Would they have continued?
When we begin a Christian Blog we are choosing to begin a writing journey that is specifically for spreading the truth and for encouraging our brothers and sisters in christ.
When proclaiming to be a Christian Blogger our focus in blogging is not about us but it is about building others up in faith and in the word of God.
Be encouraged my brother and sister in Christ to know what God has called you to write matters and will bring unity to the body of Christ to all who reads it.
"And he gave the apostles, the prophets, the evangelists, the shepherds and teachers, to equip the saints for the work of ministry, for building up the body of Christ, until we all attain to the unity of the faith and of the knowledge of the Son of God, to mature manhood, to the measure of the stature of the fullness of Christ"   
Ephesians 4:11-13 KJV
By His Grace We Blog EBook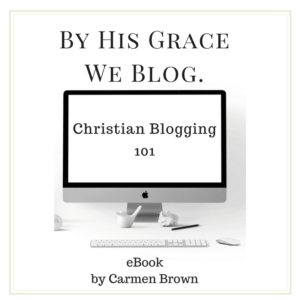 In my eBook 'By His Grace We Blog, Christian Blogging 101' my goal was to lay a foundation for new and established Christian Bloggers to know that the focus of our blog should be that we are representing Christ before anything else.
"I believe that if you knew it was God that inspired you and directed you to have a blog then you must allow God to lead you in every area of the blog. Seek Him for the name of your blog, seek Him about your topics, seek Him about your writing content. Seeking Him about your time management and administrative decisions is just as important.
Seeking the Lord first is deeper than just the decision making. It means you are consistently building a relationship with Him of trust and leadership. Your walk should not change to less time with Him than before starting the blog. In contrary, it should become greater. Through blogging, you are creating a ministry that will be reaching people in many countries and possibly one-day thousands of people. You are now set as an example. Through your blog. you represent to all who Christ is."
Chapter 1 – Seeking Him First
'By His Grace We Blog' eBook
Within the eBook, you will find sixteen chapters that cover blogging topics such as: Cultivating your Blog into a Ministry, Branding, Networking, Pinterest, Social Media, Monetizing, Creating Products, and much more for the new or established Christian Blogger.
As readers of Conforming to the Truth, Carmen Brown is offering a 25% discount code for her eBook by using promocode: truth25
Click here to find out more about the eBook.
Profile:
Carmen Brown is the creator of Married by His Grace blog. She actively writes to women who are desiring to build their home with the word of God. Her passions involve staying connected with her family, drinking an immense amount of coffee daily, and developing content that will help and encourage new Christian Bloggers. You can connect with Carmen on her blog, Instagram, and Pinterest.