Click Below to Access Week 1 Introduction and Resource
Week 1: Introduction to Philemon: Week 1 Resource
Here we go, ladies! I am excited to announce our next Bible Study in the book of Philemon! I do not know about you but I have never seen or participated in a study in the book of Philemon! Just like the book of Jude, it is one chapter with only 25 verses. Do not let the size fool you. This book is packed with so much relevant truth.
Paul calls the believer to acts of grace, mercy, and forgiveness manifested in one common thread, Love! Peter teaches in 1 Peter 4:8, "Above all, keep fervent in your love for one another because love covers a multitude of sin." Onesimus needs grace, mercy, and forgiveness extended with much love! This small book reminds me of the cross of Christ. All mankind is in great need of forgiveness. Christ extended His love to us in while we were yet sinners He died for us! Shouldn't we forgive our brothers and sisters in Christ?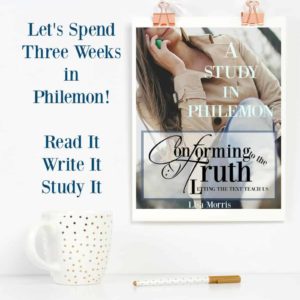 Join Us As We Dig Deep into Philemon
For those who are trying to decide if this study will meet your needs here is a brief overview of what to expect:)
Starting April 17th-May 5th we will be reading, writing, and studying through the book of Philemon for a total of 3 weeks.
Our first week of study in this book will consist of only reading the book. We will read the entire book every day for the first week. Do not panic:) There is only 1 chapter in Philemon. This can be done!! I have faith in you!
Philemon is such a small book we will write it the second week we are together. We will write 5 verses a day for 5 days.
In the third week, we will work through every verse of Philemon. The study will contain 1 lesson. Sounds short but I will have plenty of questions in the study guide to make sure we understand what God through the Holy Spirit is teaching.
Pin the image below to remind you of the start date. Please share with your friends and Bible Study Groups!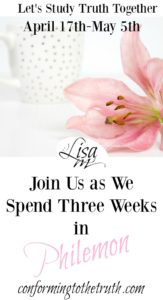 How Will This Work? 
 Monday, April 17th, I will provide a link for our first week of Study. All you have to do is come to the blog and download your reading plan. (Join my Newsletter for reminders, new posts, and upcoming studies.)
Friday, April 21st, come back to the blog for insight into the book of Philemon and a time of discussion.
Monday, April 24th, I will provide a link for our second week of study. Come to the blog and download your writing plan.
 Friday, April 28th, come join me for more insight into Philemon and a time of discussion.
Monday, May 1st, I will provide a link for our third week of study. Come to the blog to download your study guide.
Friday, May 5th, come join us for our discussion time and insights into Philemon.
Join My Newsletter
Be sure and subscribe to my newsletter for reminders, new posts on the blog, and information about new upcoming Bible Studies! Subscribe at the end of the post!
Join Our Facebook Community
On Monday-Friday I will post our weekly reading plan, reminders of what lessons we are on, and much more. This a place for us to meet and encourage each other as we study truth together. It is a place you can ask for prayer, ask questions, and share what you are learning. Join Let's study Truth Together Facebook Community
Please Join in Our Discussion!
Group Discussion is a vital part of our Bible Study! I would ask you to please be a part of our weekly discussions. Iron sharpens iron. Let's encourage and lift each other up as we grow together in the Lord!