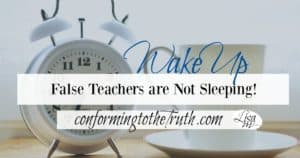 Wake Up Beloved! False teachers are not sleeping. We are in a battle and must be prepared to discern and fight against that which comes against the church. Peter teaches in 2 Peter 2:1, "False prophets arose among the people, just as there will also be false teachers among you, who will secretly introduce destructive heresies, even denying the Master who bought them, bringing swift destruction upon themselves.
I see the book of 2 Peter, this way. Chapter 1 is an encouragement and a warning for the believer. God has given the true believer everything he or she needs for life and godliness. Next, he warns us to look at our lives through the lens of the word of God. The text instructs us to make certain of our calling and choosing. 2 Peter 1:10. Peter goes to great lengths in supplying a list of fruits that are evident in a true born again believer. These characteristics are in stark contrast to the ones we will learn concerning the false teachers. The characteristics described in chapter 1 are selfless. The godly man turns away from himself to God and others. In chapter 2 the characteristics of the ungodly are the opposite. Peter describes them as self-centered with no fear of God.
 False Teachers Secretly Hate!
In the opening verses of 2 Peter 2, Peter teaches that false prophets arose among the people, referring to Old Testament Israel, and without a doubt, false teachers did arise among the church of yesterday and are arising in the church today. There will always be false teaching that sets itself up against that which is true! If you and I are not familiar with the true word of God how will we ever know if it is false? 
Peter describes these false teachers as ones who will secretly introduce destructive heresies. These men and women come into the church with a hidden agenda. They pretend to love the souls of the brethren but secretly they do not. Remember how Christ described false prophets? He describes them as sheep in wolves clothing. Matthew 7:15. If you truly love someone you tell them the truth!
Peter teaches they even deny the Master who bought them! ( This is not teaching that these men and women lost their salvation. It is teaching they have always denied Christ. They were never saved.) False teachers have no love or fear of Jesus Christ. Anyone can say they love God or love Christ but they are only words if not accompanied by godly fruit.
They Promise Freedom, But!
Peter uses quite a few adjectives to describe false teachers. This is not the most uplifting article but one that needs to be addressed. Sisters, the word of the cross is being maligned and many men and women are being led astray by their cunning ways. Here is a list of the corruption that is present in their hearts.
Daring, self-willed, they do not tremble when they revile angelic majesties. 2 Peter 2:10.
They count it a pleasure to revel in the daytime. They are stains and blemishes, reveling in their deceptions, as they carouse with you. 2 Peter 2:13.
They have eyes full of adultery that never cease from sin. Enticing unstable souls, hearts trained in greed, accursed children. 2 Peter 2:14.
They forsake the right way. 2 Peter 2:15.
They speak out arrogant words of vanity and entice by fleshly desires. 2 Peter 2:18.
They promise freedom while they themselves are slaves. 2 Peter 2:19.
As I was typing out the words above and reading the Scriptures over again these words jumped off of the page, 'They entice by fleshly desires." These men and women use whatever they can get their hands to entice our flesh! Sisters, our flesh is waiting and ready to be petted! If the words are pretty and you feel really good after hearing them, watch out. It could be deception! Be in your word God has the right encouraging words! Those who constantly nourish themselves on the word of God should see a pattern. God's word wounds first and then they heal. Those who are teaching to the flesh never wound they build up, build up, and leave you unhealed. They are promising you freedom!But in reality, you are being bound in the chains of deception!  Wounding first always brings about healing!
They Are Headed for Destruction!
"The Lord knows how to rescue the godly from temptation, and to keep the unrighteous under punishment for the day of judgment." 2 Peter 2:9. The ungodly are headed for destruction. They promise us freedom while they are slaves. The only freedom we have is through Jesus Christ. God promises a day when He will judge the world in righteousness! Peter teaches that many will follow after these false teachers. Are you on the right path? The word of God also teaches there is a way that seems right to man but its end is destruction. Proverbs 14:12. The word of God gives example after example of how the godly should live. We are given example after example of the characteristics of the false teacher. There are no excuses left!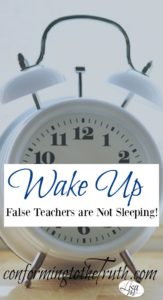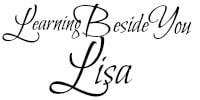 Be sure and check out my upcoming online Bible Study! You can also access my free Bible Study Guides!