Learn More Below About My New Online Study Coming Soon!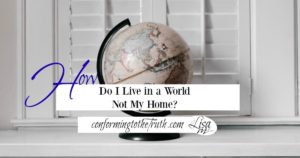 How do I live in a world, not my home? Do you ever feel like a wave tossed back and forth in the sea? Living as a believer in a world, not our home can seem daunting at times. It is big and demanding. There are so many things that vie for our heart.  The father of this world does everything he can to lure us away from the best that God has for us. Not only do we have to contend with his schemes we have our own ugly flesh to fight on a minute by minute basis. Take heart, my friend, there is a way to live victorious in a world, not our home! John encourages us in 1 John 4:4 with these words,
You are from God little children, and have overcome them; because greater is He who is in you than he who is in the world.
GOD PROVIDES EVERYTHING WE NEED
Right from the start, in 1 Peter:1-3, Peter reminds us that God chose us. The Holy Spirit sanctified us. We're sprinkled with the blood of Christ and are born again to a living hope through His resurrection. Do not miss this truth! The power of God protects us through faith! Be encouraged, God provides everything we need to live in this world that is not our home!
Grace and peace be multiplied to you in the knowledge of God and of Jesus Christ our Lord; seeing that His divine power has granted to us everything pertaining to life and godliness, through the true knowledge of Him who called us by His own glory and excellence. 2 Peter 1:2-3
LIVING LIKE AN ALIEN?
Alien! At first glance, this looks like a strange way to describe a believer. But on further investigation, it is actually a well-defined title. Now that we have died to sin and have been risen with Christ we are new creatures. Aliens to be exact. The world that we live in begins to not fit anymore. The things that once brought us pleasure now convict us. God removed our heart of stone and replaced it with a heart of flesh. Ezekiel 36:26. Now, how do I live in a world, not my home?
PUTTING IT ALL ASIDE!
"
Therefore
put aside all malice and all deceit and hypocrisy and envy and slander; like newborn babies, long for the pure milk of the word, so that by it you may grow in respect to salvation
." 1 Peter 2:1-2.
We're given everything we need for life and godliness now put the old life aside and live like the child of God that you are
.
Praise God He has left us with a Helper, The Holy Spirit of Promise that guides us into all truth. And He has preserved for us His Word.
The apostle Paul tells us that the "Scriptures
are inspired
and profitable for teaching, for reproof, for correction, for training in righteousness; so that the man of God may be adequate, equipped for every good work
." 2 Timothy 3:16-17.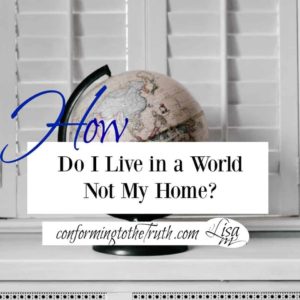 LONG FOR THE PURE MILK OF THE WORD
Long for the pure milk of the Word. This is our first step in living in a world, not our home. This cannot be over-emphasized enough. God has given us His word to guide and teach us. As children of God, we must be in the Bible on a regular basis. Peter has already told us that by it, by the word of God, we grow in respect to salvation. Reading and studying the word of God is not an option for us. It's a tough world out there and without the guidance and teaching of the word, it will consume us. Let God and His word be what consumes us!
Let's be consumed by God and His Word and not the world!
Click To Tweet
WALK IN OBEDIENCE
As obedient children, do not be conformed to the former lusts which were yours in your ignorance, but like the Holy One who called you, be holy yourselves also in all of your behavior. 1 Peter 1:14-15. God has saved us and changed us. He has given us everything we need. Now we must walk in obedience.
We are a chosen race, a royal priesthood, a holy nation, a people for God's own possession, so that we may proclaim the excellencies of Him who called us out of darkness into His marvelous light. 1 Peter 2:9
The rest of this study in Peter will be to pull out the action steps we are to take to live in a world, not our home! Join us each week, Monday, Wednesday, and Friday as we walk through 1 Peter learning how to walk in obedience.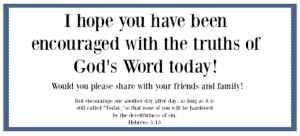 Are you looking for a Bible study? Click the box below to check out our next upcoming online study!! You will also get access to my Current Bible Study Workbooks!