Learn More Below About My New Online Study Coming Soon!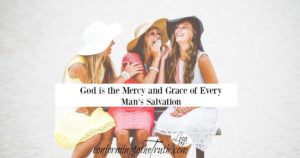 Can you imagine the humbleness and joy Peter must have felt as he wrote these words praising God for His salvation, "Blessed be the God and Father of our Lord Jesus Christ, who according to His great mercy has caused us to be born again to a living hope through the resurrection of Jesus Christ from the dead." 1 Peter 1:3. This is the Peter who
rebuked Jesus
fell asleep while he was praying
and denied Jesus three times.
Peter is quick to praise God for His salvation. Without hesitation, he draws our attention to the work of it! If we are not careful we can immediately give ourselves credit for our own salvation. If you listen to radio and TV you will find that a lot of the teaching is works based, and is a false, "I did this myself", "I am good enough for salvation," gospel! This is not the gospel at all. The apostle Paul is very bold with his teaching in Galatians 1:8-9, to say that anyone, including himself or an angel from heaven, should teach anything other than the true gospel is to be anathema, accursed, separated from Christ Jesus!  These are very strong words. I pray that they are not taken lightly.
God is the Mercy and Grace of Every Man's Salvation
Click To Tweet
Salvation is a complete work of God
Peter knew it, Paul knew it, and we need to know and understand it. Salvation is a complete work of God. The book of Romans teaches that all men are enemies of God and that His wrath rests on them. Romans 1:18 and Romans 5:10. That is until in His grace and mercy He saves them. But up until the choosing of God and sanctifying Work of the Holy Spirit, God leaves men dead in their trespasses and sins. Just as the blessings of God are humbling these words should humble us as well. Without God's grace and mercy, we're lost and headed to eternal death and destruction. As I work through this book three questions come to mind;
Why Does God Choose Anyone for Salvation?

How Did God Cleanse Us?

How Then Should We Live? 
I am going to attempt to answer these questions as we study through this amazing word of God. Today I will start with the question:
Why Does God Choose Anyone for Salvation? 
As you read these words you may be thinking, "Why Wouldn't God choose some men for salvation?" After all aren't people made in His image? Are there not some good people in the world?  When we compare someone like Elizabeth Elliot with Hitler we are tempted to say, "Elizabeth deserves the salvation of God and Hitler well… look at his life! According to the Word of God Elizabeth Elliot, Hitler, Lisa Morris, ___________________ fill in the blank with your own name, has done nothing to deserve God's salvation. Quite the opposite we've done everything to earn His wrath and condemnation. Romans 3:23 teaches, "For all have sinned and fallen short of the glory of God." Through one man, Adam, sin entered into the world, and death through sin, and so death spread to all men because all sinned." Romans 5:12. Elizabeth Elliot, Hitler, Lisa Morris… are included in the "ALL" of these passages. So, why does God Choose Anyone for Salvation?
God Chooses Men for Salvation Because He is Merciful
In the opening verses of 1Peter gives us insight into the character of God. Peter praises God in verse 3 for His great mercy. We learn that God is a merciful God. Mercy is seeing the helplessness of man to save himself and supplies the resource to meet the need. God extended His mercy through His Son Jesus Christ. Romans 5:6 teaches, " For while we were still helpless, at the right time Christ died for the ungodly." Not only are we unworthy we are helpless. We do not have the ability nor the knowledge to save ourselves. You have heard it said we own a debt we cannot pay! That is where we were until the mercy and grace of God saved us.
God Chooses Man for Salvation to Proclaim His Excellencies
We are not saved for ourselves! 1 Peter 2:9 teaches that we are God's possession. He called us out of darkness into His marvelous light to glorify His great name and to tell others how great He is. The flesh so wants to boast and glory in its own doings. But the Scriptures teach the only boasting that is acceptable is boasting in God.
"For by grace you have been saved through faith and that not of yourselves, it is a gift of God: not as a result of works,    so that no one may boast." Ephesians 2:8-9

" But he who boasts is to boast in the Lord." 2 Corinthians 10:17

" But let him who boasts boast of this, that he understands and knows Me, that I am the LORD who exercises loving-kindness, justice and righteousness on earth; for I delight in these things, declares the LORD. " Jeremiah 9:24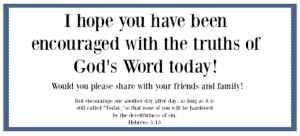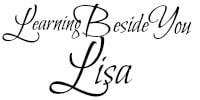 Are you looking for a Bible study? Click the box below to check out our next upcoming online study!! You will also get access to my Current Bible Study Workbooks!