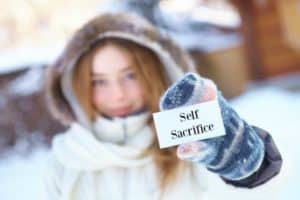 This online study in Romans has ended!  It is bitter-sweet for me. I have learned so much and been so blessed to study God's Word beside my sisters in Christ. The good news is my complete workbook for this study is now available for you! Subscribe at the end of this post and receive my study guide for free! 
Me, Me, Me, Me, Me! I want, I want, I want! It's my right, It's my desire, I am free to do as I please. Sound familiar? When you first read these words you may think this article is going to be about two little children fighting over a toy. It very well could be. Or it could be about two Christian adults fighting or arguing over something that really is unimportant. People of all ages and stages of life fit into this self-centered box. Ecclesiastes teaches that there is nothing new under the sun. So the practice of self-sacrifice has been a problem since when? The beginning of time. Our father Adam and our mother Eve were the first to put this selfish act into practice!  I know what you may be thinking. But before you or I  go there, we need to stop and think of how many times we let our own rights trump those of someone else's. Today we will walk through Romans 15:1-13 and see what God's word teaches us about sacrifice! It is a forgotten practice that needs reviving for the sake of the church!
Self-sacrifice is an act that sets aside our freedoms to do as we please to please our brothers and sisters in Christ.
Click To Tweet
Self-Sacrifice
The word in itself gives you its definition: self~(me, myself, and I)~ sacrifice~ (to give up something to please someone else).  Giving up something to please someone else is a Biblical practice that I believe is forgotten. Paul writes about this in Romans 15 and gives us some insight as to why the practice of self-sacrifice is important for unity and edification in the church.
DO NOT JUST PLEASE OURSELVES~
Is it wrong to please ourselves? No! Matter of fact Paul writes in two different places that it not wrong. Look at Romans 15:1 and Philippians 2:4. In the Romans passage, Paul says, " Now we who are strong ought to bear the weaknesses of those who are without strength and not just please ourselves." In Philippians, he says this, " do not merely look out for your own personal interests, but also for the interests of others."  We can enjoy things on this earth. Each of us has likes and desires that in themselves is not a problem as long as it does not go against the word of God.
We must be careful to line up our desires and the things which please us with the word of God. Some things are not negotiable. The book of Galatians gives a list of the deeds of the flesh, " Now the deeds of the flesh are evident, which are immorality, impurity, sensuality, idolatry, sorcery, enmities, strife, jealousy…Galatians 5:19-20″ Somethings are. For instance, in Romans 14 Paul discusses the eating of meat versus eating only veggies. He also brings up drinking wine and the observance of days. The question is can you and I eat meat or drink wine? The Bible does not forbid the eating of meat nor the drinking of wine. Romans 14:17 teaches, " The kingdom of God is not eating and drinking, but righteousness and peace and joy in the Holy Spirit". The Bible does forbid causing our brother or sister to stumble. It is good not to eat meat or drink wine, or to do anything by which your brother stumbles.
THE ROOT OF SELF-SACRIFICE
"For you were called to freedom brethren; only do not turn your freedom into an opportunity for the flesh, but through love serve one another." Galatians 5:13. The root of self-sacrifice is love. It is through love that we serve one another. At the core of all we do is love. First, we must love God greatly. If we do not have a great love for God we will never have a great love for our brothers and sisters. When we love as God loves we will be willing to give up whatever pleases us to please others. When we begin to sacrifice and give up our freedoms in love the things that once mattered to us pale in comparison to pleasing my brothers and sisters in Christ.
OUR EXAMPLE OF SELF-SACRIFICE
The greatest example we have for self-sacrifice is Jesus Christ! Paul teaches in Romans 15:3, "Christ did not even please Himself." He took on Himself the sin that condemns us and took it to the cross to bear the wrath of God. If He did that for an undeserving people can we not give up a glass of wine or a fine steak dinner for our church family? We learn in Philippians 2:5-11 that Christ emptied himself, gave up His glory, humbled Himself by becoming obedient to the point of death. We are only asked to give up fleshy appetites!
A PRAYER TO EDIFY AND GLORIFY
When I think about what Christ gave up for me in comparison to what I am called to give up leaves me embarrassed! My brothers and sisters growth and walk with the Lord must be a priority in my life. What is it that you need to sacrifice in love for your brother or sister? I am going to close with the prayer that the Apostle Paul prayed for us.
"Now may the God who gives perseverance and encouragement grant you to be of the same mind with one another according to Christ Jesus, so that with one accord you may with one voice glorify the God and Father of our Lord Jesus Christ." Romans 15:5-6.
I told you I had a free Romans Bible Study for you!!  Click the image below to receive all the details about the study and then subscribe for your free download!