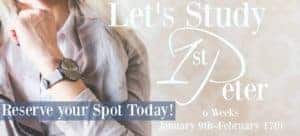 "Blessed be the God and Father of our Lord Jesus Christ, who according to His great mercy has caused us to be born again to a living hope through the resurrection of Jesus Christ from the dead."
1 Peter 1:3
Hi everyone!! I am so excited to announce that on January 9th, 2017 we will be starting our new Bible study in the book of 1 Peter! We will read and study through First Peter and without taking a breath we will head right into Second Peter. I cannot wait to dive deep into these books! More information coming soon about 2 Peter.
What to Expect From This Study!
For those who are trying to decide if this study will meet your needs here is a brief overview of what to expect:)
Starting January 9th~ February 16th we will be reading and studying through 1 Peter for a total of 6 weeks.
Our first week of study in this book will consist of only reading the book. This is something new I have started with these studies. We will read the book through everyday for the first week. Do not panick:) There is only 5 chapters in 1 Peter. This can be done!! I have faith in you! It is my practice to read through  the book we are studying every week while we study it. That will not change. However, from here on out we will read through the book  before we even begin to answer the questions in my study guide. Why? Context is key to any book we begin to study. I thought it would be helpful to read the book before we start, to help keep the context of the book in our minds as we study.
We will work through each chapter and every verse of 1st Peter. The study will contain 5 lessons. Each lesson will takes us through each verse of the chapter we are studying.
We will study a chapter a week.
How This Will Work!
On Friday January 6th for those who have signed up for the study (

See Instructions that follow to sign up.

) I will send an  email. This initial email will contain a, "How To Use the Material" guide, your reading plan for the first week, a schedule for the entire study, and insight into our Facebook group. More on the Facebook group below.
Each email after the initial one will contain the lesson for the week, an encouraging word from me, and a link back to my blog for and overview of the chapter we just finished studying.
Facebook Group!
I have a Facebook group set up for all of my studies. It is a place for us to meet and encourage each other as we study truth together. It is a place you can ask for prayer, ask questions, and share what you are learning. You can ask to join the group through my first email. It is not mandatory that you join the group but greatly encouraged. We all need encouragement and you may be just be the one God uses:)
Let's Get You Signed Up!!!
PLEASE READ THESE INSTRUCTIONS CAREFULLY. IN ORDER TO BE SIGNED UP TO THIS STUDY YOU NEED TO SIGN UP IN THE RIGHT PLACE:) Sorry! I am not saying you cannot do this:) I have had problems in the past and just want to make your experience as easy as possible!!!
Click on the image below to sign up for my 1 Peter Bible Study! Once you confirm that you would like to be apart of this study all you have to do is wait, anxiously, for your first email which will arrive in your inbox on Friday January 6th, 2017.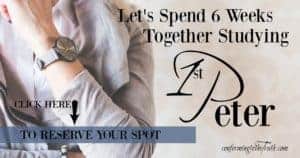 I cannot wait to study truth with you!