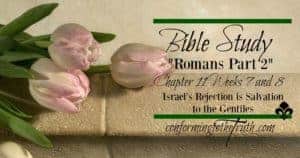 Boy, Romans 11 a deep chapter to break apart. I do believe we could camp here for weeks!! I have heard it said that this chapter is one of the most difficult to understand! Who ever that person was that said, "this is a difficult chapter" is right on target! From what I can see we have several threads running through this chapter  and it makes it difficult to pull them apart. This is the thread I would like to focus on today, "Israels Rejection is Salvation to the Gentiles."
A Partial Rejection of Israel
Paul begins the eleventh chapter of Romans with this question, "I say then God has not rejected His people has He?" Ok, but in Romans 11:15, Paul says this "For if their rejection is the reconciliation of the world, what will their acceptance be but life from the dead?" Is there a contradiction here? I will borrow the words of the apostle Paul, "May it never be!" Scripture never contradicts scripture. So what is the teaching here? In Romans 11:25 we find our first clue or as Paul puts is a mystery. A partial hardening has happened to Israel until the fullness of the Gentiles comes in. Keep this truth in your mind as we walk through this chapter, the only people who God completely rejects are those who do not believe by faith in the Son of God. God has not rejected the believing nation of Israel.
A partial hardening is not a complete hardening. In Romans 1 we learn that there is a time that God completely turns some over to the lusts of their flesh. Romans 1:24-32. Romans 11:25 does not teach this. Do not think that God has completely rejected His people Israel. Even in our generation God is saving Jews. Also remember in Romans 11:2 Paul uses himself as an example to guard us from error. God has not completely rejected Israel for Paul himself is an Israelite.
Salvation Comes to the Gentiles  
Israel did not stumble so as to fall. By their transgression salvation comes to the Gentiles! Some of the branches(Unbelieving Israel) were broken off. Believing Gentiles are grafted in among the believing Israelites and become partakers of the rich root of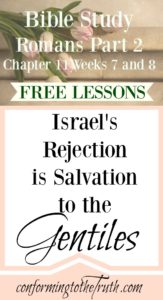 the olive tree. The believing Gentile is a partaker of the promise God made to Abraham in Genesis 12:1-3. The last part of verse 3 in Genesis 12 says this, "In you all the families of the earth will be blessed." Jesus Christ the Messiah would come through the physical seed of Abraham. See Matthew 1:2-16.
Gentile Do Not Become Arrogant 
Paul warns the Gentile of becoming arrogant toward the branches that God broke off of the Olive Tree. He makes a pretty sharp statement, "Remember Gentile it is not you that supports the root but the root supports you." Who or what is the root that Paul is referring? I believe the root of the Olive Tree is the Patriarchs, Abraham, Isaac, and Jacob. The Gentiles were not the source of blessing. We already learned that God initially made the Covenant with Abraham. Israel may stray from the truth but God will always be the God of Abraham, Isaac, and Jacob.
Praising God for His Wisdom and Knowledge!
God chose a physical nation, the nation of Israel, to bring about His plan of salvation. They are the physical root and foundation of His covenants and Promises. I cannot tell you that I have a complete grasp of the teachings of this chapter. But this I know. "God so loved the world that He sent His one and only Son, that whoever believes in Him shall not perish but have eternal life." John 3:16. God made Himself known first to the Nation of Israel. He gave them the covenants,  the giving of the Law, the temple services and the promises. From them all the world would be blessed. Salvation has come to the Gentiles!  I am praising Him today for His gift of salvation. Will you praise Him with me?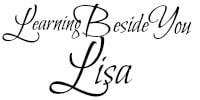 This post is written as an overview of Romans chapter 11. I am currently doing an online Bible study  in Romans 8-16. This study runs September 12th through December 16th. I would like to encourage you to study the word on your own.  So I have written lessons that go along with this post. See below for details!
Can I still participate?
Yes!! Most certainly you can still take part in this Romans study. I would never turn anyone away! BUT,  if you wait too late you will not get the benefit of our community discussion. We will be studying together for 13 weeks asking questions and sharing what God is  teaching us each week. I will leave the Facebook discussion open for a few weeks after we have finished. But after that, we will move on to a new study. If it is impossible for you to participate  with the group I am always available to answer your questions. I love to hear what God is doing in your life!