What comes to mind when you hear the phrase, "God is Sovereign?" Do you run away screaming? Does your flesh cringe? Do you shut it out of your mind completely because you do not understand God's sovereignty? All of these reactions are flesh reactions. The flesh wants to rule and reign it does not want to give up control. For the believer, there is great hope and encouragement in knowing that God is Sovereign and in complete control of all things.
How Can We Be Encouraged by God's Sovereignty?
This week we are studying through Romans 9. A hard chapter to study and understand unless you have a grasp of the truth that God is Sovereign. If we do not approach this chapter with prayer and the study of the rest of the book, we will walk away confused. For the believer, God's Word is not meant to confuse but to teach and train. As a good student of the Word, our first priority is to know God through His word. If we do not have an understanding of His character, we will never grasp the truths that He has given to us.
Without the knowledge of His sovereignty, I would live out my days afraid. Why do I say that?  My hope is to look at all that is going on in this world through the sovereignty of God. Otherwise, I would live discouraged instead of encouraged. What does Romans 9 teach about God's sovereignty? How can it encourage the believer?
So let's look at what Romans 9 teaches about God's sovereignty.  How can it encourage the believer?
There is No Injustice With God, Is There? 
In the middle of Romans 9, Paul pens these words, " There is no injustice with God is there?" The very next words out of his pen are, "May it never be!" When we read the words right before these we see God loves Jacob but hates Esau! Romans 9:13. What do we do with these words? How do we process what they say? We process them through God's sovereignty and His character. God is always right and just in everything He says and in everything He does.
In God's Sovereign election He chose Jacob to be the father of the twelve tribes of Israel. God chose Esau for a different purpose. That purpose was God's choice to make, not Esau's. Is God unjust in His choice? May it never be!
God Will Have Mercy on Whom He will Have Mercy. 
God is sovereign in His giving of mercy. Romans 9:15 teaches that God told Moses, " I will have mercy on whom I will have mercy, and I will have compassion on whom I have compassion." Is God unjust in His giving of mercy and compassion? NO! Our example is the life of Pharaoh. God raised up Pharoah for the purpose of demonstrating His power and to proclaim His Name throughout the whole earth. " For from Him and through Him and to Him are all things. To Him be the glory forever. Amen." Romans 11:36
Our encouragement comes from the knowledge that God is just in all that He does with mankind and in every circumstance!

God Has the Right. 
He is right to have sovereign control over lumps of clay. God is the Master potter. He makes vessels for honorable use and some for common use. Romans 9:21. The question may arise, "What about the rights of man?" I am going to answer the previous question with another question. What is the chief end of man?
The answer: The chief end of man is to glorify God and enjoy Him forever.
According to Romans Chapters 3 and 5 does any man glorify God and enjoy Him as he should?
By our sin, the greatest commandment, "to love the Lord our God with all our hearts, souls, and mind," is broken. In God's justice, He has the right to condemn every human being that every lived or will live. But because of His kindness, love, and mercy, He sent His One and Only Son to the Cross to die for our sins, to satisfy His justice.
God's sovereignty does not make Him a mean, unjust God. All man are under the wrath and condemnation of God. Romans 1:18-32.
Our Dependence is in
 God
"So then it does not depend on the man who wills or the man who runs, but on God who has mercy." Romans 9:16. Our responsibility for our sin does not make us responsible for our salvation!
Our responsibility for our sin does not make us responsible for our salvation.
Click To Tweet
We are responsible before God for our sin. Because we are sinners the wrath of God is revealed from heaven against all of our ungodliness and unrighteousness. Romans 1:18.  Man cannot will his salvation nor can he work for his salvation. Our sin keeps us bound to the flesh. Only the grace, mercy, and justice of God through Christ sets us free.
Do you see the encouragement in our dependence on God? Our encouragement and hope are in our dependence on Him and His sovereign control over our lives. Left to ourselves we would continue in a downward spiral of sin with no way of escape! Without God stepping in to save us,  we would remain under His wrath and condemnation.
Who Are You, O man, who answers back to God?
The Master Potter has the right to do as He pleases! The comfort in that is God will always do what is right and just in all He does!
God's Sovereignty is our hope and encouragement.
after reading through this chapter of Romans do you have a better understanding of God's sovereignty? Are you encouraged? I pray you are!
Keep reading you can sign up for my study in Romans! FREE:)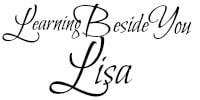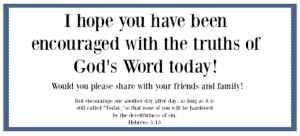 Be sure and check out my upcoming online Bible Study! You can also access my free Bible Study Guides! 

YOU MAY FIND ME LINKED UP WITH SOME AWESOME BLOGGERS! GO, CHECK THEM OUT!