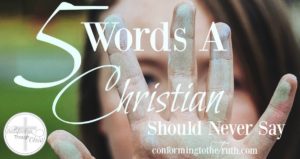 Did you know there are words that we speak that should never make it across our lips? Especially a Christian. The Bible tells us that by our words we will be justified or by our words, we will be condemned. Matthew 12:37.
There are a lot of issues facing us as Christians today. Same-sex marriage, the transgender movement, abortion, feminism, wives being subject to their husband…  and so much more. I have a Biblical stance on all of these issues but my purpose in writing today is to point out 5 words a Christian should never say and why they should not say them. I have heard them tossed around by those who are not Christians but my shock and surprise are to hear these words spoken by people who claim to be a Christian. Are you ready to read the words? Here goes:
Today I am over At Satisfaction through Christ talking about five words that a Christian should never say. I would love for you to join me!